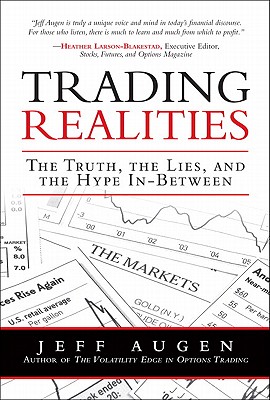 Trading Realities (Hardcover)
The Truth, the Lies, and the Hype In-Between
FT Press, 9780137070091, 258pp.
Publication Date: October 24, 2010
* Individual store prices may vary.
Description
Trading Realities teaches investors and traders the universal, basic principles that apply to every financial market: stocks, bonds, commodities, foreign exchange, futures, options, and beyond. Writing for beginners and experienced investors alike, successful trader and author Jeff Augen illuminates key issues that are often mentioned but rarely fully understood: issues such as leverage, liquidity, market trends, risk, valuation, interest rates, and the impact of news and events. Most important, he shows how to apply this knowledge to trade and invest far more profitably. Augen focuses on the massive forces that really move financial markets: the market dynamics that are fundamental to your success, regardless of your investment strategies or the asset classes you choose. You'll learn how to value markets in absolute terms (e.g. constant currency), rank investment vehicles according to risk; assess the real impact of leverage and the true meaning of trends; interpret the flow of money between markets; and much more. Augen shows how to identify and collect the information that matters most (and ignore the information that doesn't matter). Once you have the facts you need, you'll learn how to use those facts to gain a clear advantage: one that you can sustain through any market environment.
About the Author
Je ff Augen, currently a private investor and writer, has spent more than a decade building a unique intellectual property portfolio of databases, algorithms, and associated software for technical analysis of derivatives prices. His work, which includes more than a million lines of computer code, is particularly focused on the identification of subtle anomalies and price distortions. Augen has a 25-year history in information technology. As cofounding executive of IBM's Life Sciences Computing business, he defined a growth strategy that resulted in $1.2 billion of new revenue and managed a large portfolio of venture capital investments. From 2002 to 2005, Augen was President and CEO of TurboWorx Inc., a technical computing software company founded by the chairman of the Department of Computer Science at Yale University. His books include Day Trading Options, Trading Options at Expiration, The Option Trader's Workbook, and The Volatility Edge in Options Trading. He currently teaches option trading classes at the New York Institute of Finance and writes a weekly column for Stocks, Futures and Options magazine.
or
Not Currently Available for Direct Purchase