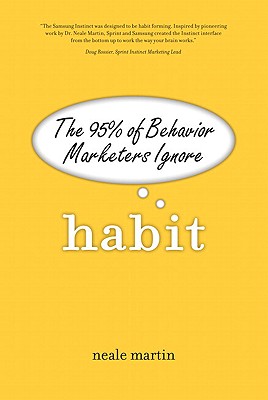 Habit
The 95% of Behavior Marketers Ignore
Paperback

* Individual store prices may vary.
Other Editions of This Title:
Hardcover (6/1/2008)
Description
"The Samsung Instinct was designed to be habit forming. Inspired by pioneering work by Dr. Neale Martin, Sprint and Samsung created the Instinct interface from the bottom up to work the way your brain works." --Doug Rossier, Sprint Instinct Marketing Lead "In Habit, Neale Martin provides what seems to be a simple observation--that human behavior is largely managed through subconscious process. In startling fashion, Martin makes this point and then proceeds to undermine much of what marketers have come to believe as absolute truths. This is a worthwhile read, with significant implications to anyone who hopes to build brands and sell products." --John Stratton, Sr. Vice President and Chief Marketing Officer of Verizon "Neale provides some of the most comprehensive insights into marketing I have ever read. His understanding of today's market complexity is simply brilliant." --Derek Broes, Sr. Vice President, Paramount "At last someone has approached marketing with the clarity and precision of a brain surgeon." --George Ford, Marketing Director, Petrafoods "Habit reveals why traditional approaches to acquiring and keeping customers don't work anymore. Dr. Martin shows that by focusing on behavior instead of attitudes and intentions, companies can radically improve not only how many customers they win, but how many they keep." --S. Somasegar, Microsoft Senior Vice President, Developer Division "Habit is an essential read for all marketers, managers and executives. Dr. Martin has elevated the seemingly boring concept of habits to a science with implications for every business in every market. This excellent book not only explains why consumers behave the way they do, but what companies should do in light of these startling insights " --Jagdish N. Sheth, Ph.D, Charles H. Kellstadt Professor of Marketing, Goizueta Business School, Emory University Habit begins with a revolutionary premise--95% of human behavior is controlled by the unconscious mind. This fact exposes the central flaw in marketing theory, market research, and a preponderance of business strategy--that customers are consciously aware of what they're doing. Habit explains why 80% of new products fail, why billions of advertising dollars are wasted every year, and why even satisfied customers aren't loyal. In Habit, Dr. Neale Martin persuasively contends that recent research from the brain sciences reveals that our brain evolved two minds--and marketing is focused on the wrong one. By explaining how the mind actually works, Martin shows how 50 years of marketing theory is deeply flawed, and how your customers' habits thwart even your costliest marketing campaigns. Habit explains in practical terms how to work with both your customers' executive and habitual minds to not only make sales but more importantly, create loyalty. You'll discover how behavior actually rewires your customers' mind--and how to leverage this by refocusing on behavior, not on attitudes and beliefs. Martin offers a complete process for working with customers' unconscious and conscious minds together, to become your customer's habit, not just their choice. Using these techniques, you can finally achieve the twin holy grails of marketing: higher customer retention, and greater long-term profitability. Why focusing on customer satisfaction is a waste of time
Prioritizing customer satisfaction ignores a crucial reality: 85% of customers who defect report being satisfied How to establish a beachhead in your potential customer's unconscious
Teach new buying habits through cause and effect, reward and repetition Why you should keep your regular customers from thinking about you
Learn how to keep repurchase behavior on permanent autopilot www.nealemartin.com
FT Press, 9780137070114, 191pp.
Publication Date: June 26, 2008
About the Author
Neale Martin is the founder and CEO of Ntelec, Inc., a marketing, consulting, and education company. He has helped companies adjust their strategic marketing in the face of rapid technological change since 1995. For the past several years, he has worked on updating the principles of marketing in light of research from cognitive psychology and neuroscience that suggests that most of human behavior is under the sway of unconscious habits. Neale developed early insights into the power of habits as a counselor and program director for alcohol and drug addiction programs. After spending a year as a hospital administrator in Texas, he returned to school to earn his Ph.D. in marketing from the College of Management, Georgia Institute of Technology. Neale's insatiable curiosity across diverse subjects illuminates his work as he connects ideas and insights from science, technology, psychology, history, philosophy, and dog training. He lives in Marietta, Georgia, with his wife, Diana, his daughter, Miranda, and three border collies.
or
Not Currently Available for Direct Purchase