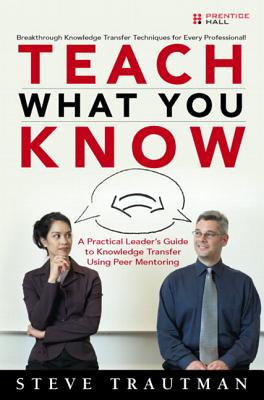 Teach What You Know
A Practical Leader's Guide to Knowledge Transfer Using Peer Mentoring
Paperback

* Individual store prices may vary.
Description
Every organization relies on internal subject matter experts (the peer mentors) to teach what they know to new hires and other team members (the apprentices). This book is the first comprehensive, how-to manual that provides peer mentors, apprentices, and the people who manage them a process and toolset for getting each other up to speed. The checklists, templates, questions, and step by step procedures help organize knowledge into manageable chunks, teach it, and ensure it's received as intended, all while the peer mentor manages the pressures of a full workload. The ideas in the book improve communication and reduce frustration between all players by helping to clarify expectations in the plainest language possible. Author Steve Trautman first developed Peer Mentoring for engineers at Microsoft more than 15 years ago and has since presented the ideas to thousands of people from every type of organization. The universal truths that the book addresses translate easily from software development, to manufacturing to sales to social work. The Practical Leader's Guide to Knowledge Transfer is for anyone working in a fast paced, no-nonsense environment where rapid growth or sudden transition means employees must assimilate new knowledge fast.
Prentice Hall, 9780137143689, 294pp.
Publication Date: January 1, 2008
About the Author
Steve Trautman created Peer Mentoring to help developers and testers at Microsoft deliver on-the-job training to their peers. He has since customized the program for a wide range of organizations, including Nike, Nordstrom, Intel, Hewlett-Packard, Electronic Arts, Boeing, Standard Insurance, Phelps Dodge, Southern Company, the U.S. Air Force, the Coast Guard, and the Army Corps of Engineers. A former program and group manager at Microsoft and general manager at Expedia.com, Trautman is author of the Practical Leader Series: programs that have helped thousands of leaders, managers, and employees improve communication, performance, and quality.