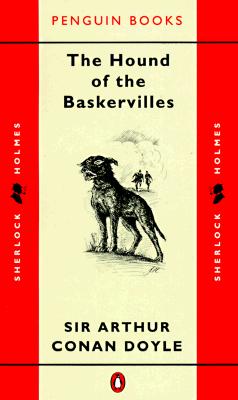 The Hound of the Baskervilles (Paperback)
Penguin Books, 9780140001112, 176pp.
Publication Date: September 24, 1981
* Individual store prices may vary.
or
Not Currently Available for Direct Purchase
Description
The Hound of the Baskervilles is the tale of an ancient curse suddenly given a terrifying modern application. The grey towers of Baskerville Hall and the wild open country of Dartmoor hold many secrets for Holmes and Watson to unravel. The detective is contemptuous of supernatural manifestations, but the reader will remain perpetually haunted by the hound from the moor.

About the Author
Sir Arthur Conan Doyle was born in Edinburgh in 1859. After nine years in Jesuit schools, he went to Edinburgh University, receiving a degree in medicine in 1881. He then became an eye specialist in Southsea, with a distressing lack of success. Hoping to augment his income, he wrote his first story, "A Study in Scarlet." His detective, Sherlock Holmes, was modeled in part after Dr. Joseph Bell of the Edinburgh Infirmary, a man with spectacular powers of observation, analysis, and inference. Conan Doyle may have been influenced also by his admiration for the neat plots of Gaboriau and for Poe's detective, M. Dupin. After several rejections, the story was sold to a British publisher for 25, and thus was born the world's best-known and most-loved fictional detective. Fifty-nine more Sherlock Holmes adventures followed. Once, wearying of Holmes, his creator killed him off, but was forced by popular demand to resurrect him. Sir Arthur--he had been knighted for this defense of the British cause in his The Great Boer War--became an ardent Spiritualist after the death of his son Kingsley, who had been wounded at the Somme in World War I. Sir Arthur Conan Doyle died in Sussex in 1930.
Advertisement