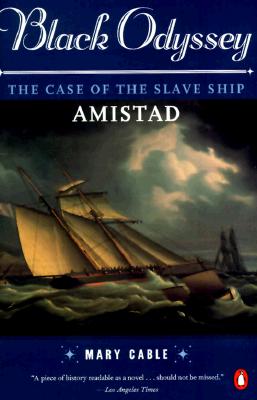 Black Odyssey
The Case of the Slave Ship Amistad'
Paperback

* Individual store prices may vary.
Description
In August of 1839, what appeared to be a listless "pirate ship", unidentified by any flag, was spotted off the North Atlantic coast of the United States. On board were thirty barely clad black men, all of whom wore cutlasses, and two white men -- Spanish slave owners with an incredible story to tell. A month earlier, the Amistad, as the ship was known, had set sail from Havana with a valuable cargo of slaves and $40,000 worth of gold doubloons -- and in a matter of days the captain and the cook were dead, and the ship was in the control of the slaves.
Thus began "the Amistad affair", which, reports Mary Cable, "was to bedevil the diplomatic relations of the United States, Spain and England for a generation; intensify bitterness over the question of slavery; and at one of its most dramatic points, lead an ex-President (John Quincy Adams) to go before the Supreme Court and castigate the administration" in an eloquent plea for the slaves' freedom. In her fascinating and carefully researched account, Cable takes us right to the heart of these complex matters, dramatically replaying an amazing series of events that converged to form a uniquely exciting and challenging chapter in American history.

Penguin Books, 9780140046946, 192pp.
Publication Date: December 8, 1977
or
Not Currently Available for Direct Purchase