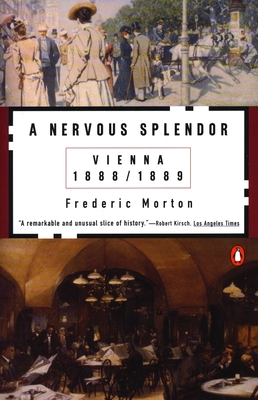 A Nervous Splendor
Vienna 1888-1889
Paperback

* Individual store prices may vary.
Description
On January 30, 1889, at the champagne-splashed hight of the Viennese Carnival, the handsome and charming Crown Prince Rudolf fired a revolver at his teenaged mistress and then himself. The two shots that rang out at Mayerling in the Vienna Woods echo still.

Frederic Morton, author of the bestselling Rothschilds, deftly tells the haunting story of the Prince and his city, where, in the span of only ten months, "the Western dream started to go wrong." In Rudolf's Vienna moved other young men with striking intellectual and artistic talents—and all as frustrated as the Prince. Among them were: young Sigmund Freud, Gustav Mahler, Theodor Herzl, Gustav Klimt, and the playwright Arthur Schnitzler, whose La Ronde was the great erotic drama of the fin de siecle. Morton studies these and other gifted young men, interweaving their fates with that of the doomed Prince and the entire city through to the eve of Easter, just after Rudolf's body is lowered into its permanent sarcophagus and a son named Adolf Hitler is born to Frau Klara Hitler.
Praise For A Nervous Splendor: Vienna 1888-1889…
"A remarkable and unusual slice of history."
—Robert Kirsch,
Los Angeles Times
"As lush, beguiling, and charming as an emperor's waltz"
—Publisher's Weekly
"1888/1889 is my favorite year in the life of 'the imperial City,' and Frederic Morton's A Nervous Splendor is my favorite book about Vienna."
—John Irving, author of The World According to Garp
Penguin Books, 9780140056679, 352pp.
Publication Date: October 30, 1980
About the Author
Frederic Morton was born in Vienna. Author of The Rothschilds, which became a hit Broadway musical, Mr. Morton has also written several novels. His short fiction has appeared in Esquire, The Atlantic, Playboy, and Hudson Review, as well as in Martha Foley's Best American Short Stories and other anthologies. He lives in New York City.