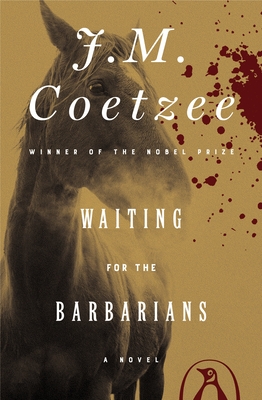 Waiting for the Barbarians
A Novel
Paperback

* Individual store prices may vary.
Other Editions of This Title:
Paperback (6/29/2010)
Paperback (10/1/1999)
Prebound (6/29/2010)
MP3 CD (5/12/2020)
Compact Disc (3/2/2021)
Description
A modern classic by Nobel Laureate J.M. Coetzee. His latest novel, The Schooldays of Jesus, is now available from Viking. Late Essays: 2006-2016 will be available January 2018. 
For decades the Magistrate has been a loyal servant of the Empire, running the affairs of a tiny frontier settlement and ignoring the impending war with the barbarians. When interrogation experts arrive, however, he witnesses the Empire's cruel and unjust treatment of prisoners of war. Jolted into sympathy for their victims, he commits a quixotic act of rebellion that brands him an enemy of the state.
J. M. Coetzee's prize-winning novel is a startling allegory of the war between opressor and opressed. The Magistrate is not simply a man living through a crisis of conscience in an obscure place in remote times; his situation is that of all men living in unbearable complicity with regimes that ignore justice and decency.
Mark Rylance (Wolf Hall, Bridge of Spies), Ciro Guerra and producer Michael Fitzgerald are teaming up to to bring J.M. Coetzee's Waiting for the Barbarians to the big screen.
Praise For Waiting for the Barbarians: A Novel…
Praise for Waiting for the Barbarians:

"J.M. Coetzee's vison goes to the nerve-center of being. What he finds there is more than most people will ever know about themselves, and he conveys it with a brilliant writer's mastery of tension and elegance." —Nadine Gordimer 
"A remarkable and original book." —Graham Greene 
"Coetzee, with laconic brilliance, articulates one of the basic problems of our time—how to 
understand
 the mentality behind brutality and injustice." —Anthony Burgess, 
New York
"A real literary event." —Irving Howe,
The New York Times Book Review
"I have known few authors who can evoke such a wilderness in the heart of a man . . . Coetzee knows the elusive terror of Kafka." —Bernard Levin, The Sunday Times (London)
Penguin Books, 9780140061109, 192pp.
Publication Date: April 29, 1982
About the Author
Born in Cape Town, South Africa, on February 9, 1940, John Michael Coetzee studied first at Cape Town and later at the University of Texas at Austin, where he earned a Ph.D. degree in literature. In 1972 he returned to South Africa and joined the faculty of the University of Cape Town. His works of fiction include Dusklands, Waiting for the Barbarians, which won South Africa's highest literary honor, the Central News Agency Literary Award, and the Life and Times of Michael K., for which Coetzee was awarded his first Booker Prize in 1983. He has also published a memoir, Boyhood: Scenes From a Provincial Life, and several essays collections. He has won many other literary prizes including the Lannan Award for Fiction, the Jerusalem Prize and The Irish Times International Fiction Prize. In 1999 he again won Britain's prestigious Booker Prize for Disgrace, becoming the first author to win the award twice in its 31-year history. In 2003, Coetzee was awarded the Nobel Prize in Literature.