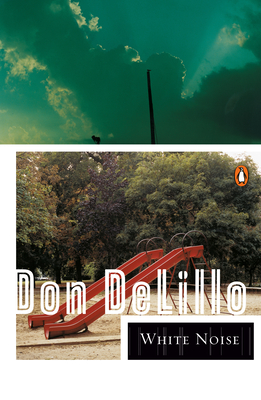 White Noise
Paperback

* Individual store prices may vary.
Other Editions of This Title:
Digital Audiobook (4/18/2016)
Paperback (10/18/2016)
Compact Disc (3/31/2020)
Description
The National Book Award-winning classic from the author of Underworld and Libra—an "eerie, brilliant, and touching" (New York Times) family drama about mass culture and the numbing effects of technology—now a major motion picture starring Adam Driver and Greta Gerwig

White Noise tells the story of Jack Gladney, his fourth wife, Babette, and four ultra­modern offspring as they navigate the rocky passages of family life to the background babble of brand-name consumerism. When an industrial accident unleashes an "airborne toxic event," a lethal black chemical cloud floats over their lives. The menacing cloud is a more urgent and visible version of the "white noise" engulfing the Gladneys—radio transmissions, sirens, microwaves, ultrasonic appliances, and TV murmurings—pulsing with life, yet heralding something ominous.
Praise For White Noise…
Praise for White Noise:

Winner of the National Book Award for Fiction

"One of the most ironic, intelligent, grimly funny voices to comment on life in present-day America . . . [White Noise] poses inescapable questions with consummate skill."
—Jayne Anne Phillips, The New York Times Book Review

"DeLillo's eighth novel should win him wide recognition as one of the best American noveslists. . . . the homey comedy of White Noise invites us into a world we're glad to enter. Then the sinister buzz of implication makes the book unforgettably disturbing."
—Newsweek

"A stunning book . . . it is a novel of hairline prophecy, showing a desolate and all-too-believable future in the evidence of an all-too-recognizable present. . . . Through tenderness, wit, and a powerful irony, DeLillo has made every aspect of White Noise a moving picture of a disquiet we seem to share more and more."
—Los Angeles Times

"White Noise captures the quality of daily existence in media-saturated, hyper-capitalistic postmodern America so precisely, you don't know whether to laugh or whimper." 
—TIME

"DeLillo is a prodigiously gifted writer. His cool but evocative prose is witty, biting, surprising, precise . . . White Noise [is] arguably [his] best novel." 
—The Washington Post
 
"Its brilliance is dark and sheathed. And probing. In White Noise, Don DeLillo takes a Geiger-counter reading of the American family, and comes up with ominous clicks."
—Vanity Fair

"A stunning performance from one of our most intelligent novelists . . . Tremendously funny."
—The New Republic

"DeLillo's love and flair for language unite to tell us […] something discomforting about mortality and something profound about the way we deal with it. It may be a novel superabounding with words, but none of them are wasted." 
—The Guardian
Penguin Books, 9780140077025, 336pp.
Publication Date: January 7, 1986
About the Author
Don DeLillo is the author of sixteen novels, including Zero K, Underworld, Falling Man, White Noise, and Libra. He has won the National Book Award, the PEN/Faulkner Award for Fiction, the Jerusalem Prize for his complete body of work, and the William Dean Howells Medal from the American Academy of Arts and Letters. In 2010, he was awarded the PEN/Saul Bellow Prize. The Angel Esmeralda was a finalist for the 2011 Story Prize and the PEN/Faulkner Award for Fiction. In 2012, DeLillo received the Carl Sandburg Literary Award for his body of work.