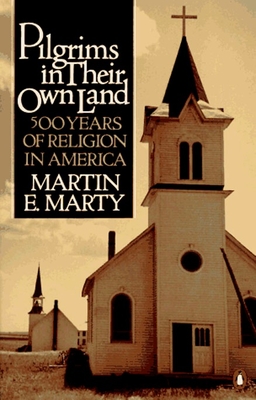 Pilgrims in Their Own Land: 500 Years of Religion in America (Paperback)
500 Years of Religion in America
Penguin Books, 9780140082685, 500pp.
Publication Date: August 6, 1985
Description
Pilgrims in Their Own Land
is Martin E. Marty's vivid chronological account of the people and events that carved the spiritual landscape of America. It is in one sense a study of migration, with each wave of immigrants bringing a set of religious beliefs to a new world. The narrative unfolds through sharply detailed biographical vignettes--stories of religious "pathfinders," including William Penn, Mary Baker Eddy, Henry David Thoreau, and many other leaders of movements, both marginal and mainstream. In addition, Marty considers the impact of religion on social issues such as racism, feminism, and utopianism.
And engrossing, highly readable, and comprehensive history, Pilgrims in Their Own Land is written with respect, appreciation, and insight into the multitude of religious groups that represent expressions of spirituality in America.
About the Author
Martin Marty, one of today's most respected theologians, is professor emeritus at the University of Chicago, where the Martin Marty Center has been founded to promote public religion endeavors. His more than fifty books include Modern American Religion. He is a winner of the National Book Award and was the first religion scholar to receive the National Humanities Medal.
Praise For Pilgrims in Their Own Land: 500 Years of Religion in America…
"It would be a good thing for America if this book were widely read and discussed."
Los Angeles Times

"Marty weaves a fascinating tapestry of personal histories."
The Washington Post

"Page for page, it is the most engaging one-volume history of American religion we now have."
The New York Times Book Review

"An essential book for serious students of American society."
Chicago Sun-Times Book Week
Advertisement