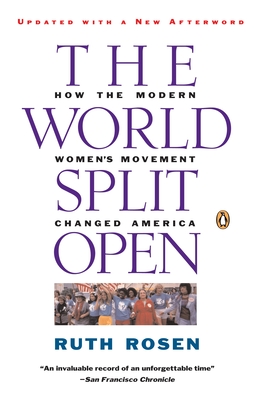 The World Split Open (Paperback)
How the Modern Women's Movement Changed America: Revised and Updated with a NewE pilogue
Penguin Books, 9780140097191, 544pp.
Publication Date: December 26, 2006
* Individual store prices may vary.
Description
The Newly Revised and Updated Edition

In this enthralling narrative-the first of its kind-historian and journalist Ruth Rosen chronicles the history of the American women's movement from its beginnings in the 1960s to the present. Interweaving the personal with the political, she vividly evokes the events and people who participated in our era's most far-reaching social revolution. Rosen's fresh look at the recent past reveals fascinating but little-known information including how the FBI hired hundreds of women to infiltrate the movement. Using extensive archival research and interviews, Rosen challenges readers to understand the impact of the women's movement and to see why the revolution is far from over.
About the Author
Ruth Rosen, a professor emerita at the University of California, Davis, teaches history and public policy at U.C. Berkeley.  She is the editor of The Maimie Papers and author of Prostitution in America. She is a former columnist for the Los Angeles Times and editorial writer and columnist for the San Francisco Chronicle. A cofounder and senior fellow of the Longview Institute, she writes for a wide variety of magazines and journals, including TomDispatch.com, The History News Network, TomPaine.com, The American Prospect, Dissent, The Nation, AlterNet.org, and is a regular contributor to the online political Web site Talking Points Memo Café.
Praise For The World Split Open: How the Modern Women's Movement Changed America: Revised and Updated with a NewE pilogue…
"People who decry and fear women's liberation should read [this book]. The experience will provide them with a factual underpinning for what women were, and still are, up against." --
The Washington Post
"A first-rate history of contemporary feminism....[Rosen's] account of the past 50 years is comprehensive and detailed, erudite and personal, suitable for the night table as well as the academy." --San Francisco Chronicle