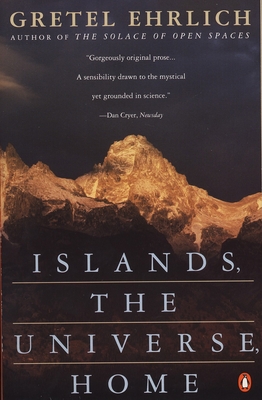 Islands, the Universe, Home (Paperback)
Penguin Books, 9780140109078, 208pp.
Publication Date: October 1, 1992
* Individual store prices may vary.
Description
Gretel Ehrlich's world is one of isolation and wonder, of pain and grace, and these elements ignite her vivid imagination. She writes of ravens and elk and prairie dogs, and eagles falling out of the sky. She tells of a voyage of discovery in northern Japan, where she finds her "bridge to heaven." She captures a "light moving down a mountain slope." One evening there is a contrapuntal dance of death: a calf she has tried to save, and a friend and mentor both die. She remembers what a painter once told her when she was twelve years old, as he was painting her portrait: "You have to mix death into everything. Then you have to mix life into that. If they are not there I try to mix them. Otherwise, the painting won't be human."

Through these explorations, in prose that is supple and muscular and evocative, Ehrlich begins to understand her own longings, her own nature, and the relatedness of her life to the universe.

"A volume of ten deep, wandering essays that at times are so point-blank vital you nearly need to put down the book to settle yourself." -- Peter Stack, San Francisco Chronicle

"Her essays, delicately combining interior and exterior exploration, are as spare and beautiful as the landscape from which they've grown... Each one is a pilgrimage into the secrets of the heart." -- Andrea Barrett, The Cleveland Plain Dealers
About the Author
Gretel Ehrlich is the author of This Cold Heaven, The Future of Ice, Heart Mountain, Facing the Wave, and The Solace of Open Spaces, among other works of nonfiction, fiction, and poetry. Ehrlich studied at Bennington College and UCLA film school. She lives in Wyoming.