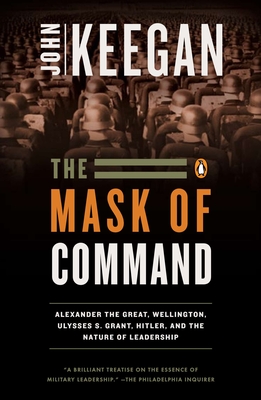 The Mask of Command (Paperback)
Alexander the Great, Wellington, Ulysses S. Grant, Hitler, and the Nature of Lea dership
Penguin Books, 9780140114065, 400pp.
Publication Date: October 4, 1988
* Individual store prices may vary.
Description
John Keegan's brilliant look at the meaning of leadership

In The Mask of Command, John Keegan asks us to consider questions that are seldom asked: What is the definition of leadership? What makes a great military leader? Why is it that men, indeed sometimes entire nations, follow a single leader, often to victory, but with equal dedication also to defeat?

Dozens of names come to mind...Napoleon, Lee, Charlemagne, Hannibal, Castro, Hussein. From a wide array, Keegan chooses four commanders who profoundly influenced the course of history: Alexander the Great, the Duke of Wellington, Ulysses S. Grant and Adolph Hitler. All powerful leaders, each cast in a different mold, each with diverse results.

"The best military historian of our generation." –Tom Clancy
 
"A brilliant treatise on the essence of military leadership." –The Philadelphia Inquirer
 
"Fascinating and enlightening… marked by great intellectual liveliness… Mr. Keegan knows how to bring fighting alive on the page." –The New York Times

About the Author
Sir John Desmond Patrick Keegan (1934–2012), was one of the most distinguished contemporary military historians and was for many years the senior lecturer at Sandhurst (the British Royal Military Academy) and the defense editor of the Daily Telegraph (London). Keegan was the author of numerous books including The Face of Battle, The Mask of Command, The Price of Admiralty, Six Armies in Normandy, and The Second World War, and was a fellow at the Royal Society of Literature.