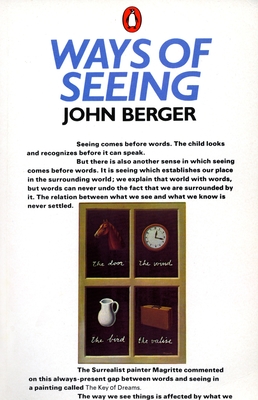 Ways of Seeing
Based on the BBC Television Series
Paperback

* Individual store prices may vary.
Description
"The relation between what we see and what we know is never settled" -- so opens John Berger's revolutionary million-copy bestseller on how to look at art

John Berger's Ways of Seeing is one of the most stimulating and the most influential books on art in any language. First published in 1972, it was based on the BBC television series about which the Sunday Times critic commented: "This is an eye-opener in more ways than one: by concentrating on how we look at paintings . . . he will almost certainly change the way you look at pictures." By now he has.


Praise For Ways of Seeing: Based on the BBC Television Series…
"It's a book about art history and the media, but it's also a magic trick." -- The New Republic 

"Berger fulfils the roles of a philosopher, listener, and somewhat of a magician as he makes tantalising worlds appear, and illusions vanish." -- Pratibha Rai, Oxford Culture Review

"The influence of the series and the book . . . was enormous . . . It opened up for general attention to areas of cultural study that are now commonplace." —Geoff Dyer

"...perhaps the most bold, clear, and widely renowned explanation of art's entanglement with capitalism." -- The Paris Review

"Berger has the ability to cut right through the mystification of the professional art critics . . . He is a liberator of images: and once we have allowed the paintings to work on us directly, we are in a much better position to make a meaningful evaluation." —Peter Fuller, Arts Review

"Over the past sixty years, the great John Berger — art critic, essayist, screenwriter, novelist, poet, and artist — has made immeasurable contributions to our understanding of culture and politics, never more potently than in Ways of Seeing." -The Village Voice

On John Berger: 

"In contemporary English letters he seems to me peerless." -- Susan Sontag

"We learned from him to see that basic assumptions about everything—work, play, art, commerce—are hidden in the surrounding culture of images." -- Jane Gaines
 
Penguin Books, 9780140135152, 176pp.
Publication Date: December 1, 1990
About the Author
Storyteller, novelist, essayist, screenwriter, dramatist and critic, John Berger (1926-2017) was one of the most internationally influential writers of the last fifty years. His many books include Ways of Seeing; the fiction trilogy Into Their Labours; Here Is Where We Meet; the Booker Prize–winning novel G; Hold Everything Dear; the Man Booker–longlisted From A to X; and A Seventh Man.