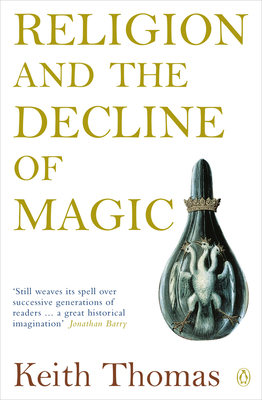 Religion and the Decline of Magic (Paperback)
Studies in Popular Beliefs in Sixteenth and Seventeenth-Century England
Penguin UK, 9780140137446, 880pp.
Publication Date: January 1, 2003
* Individual store prices may vary.
Description
Witchcraft, astrology, divination, and every kind of popular magic flourished in England during the 16th and 17th centuries, from the belief that a blessed amulet could prevent the assaults of the Devil to the use of the same charms to recover stolen goods. At the same time the Protestant Reformation attempted to take the magic out of religion, and scientists were developing new explanations of the universe. Keith Thomas's classic analysis of beliefs held on every level of English society begins with the collapse of the medieval Church and ends with the changing intellectual atmosphere around 1700, when science and rationalism began to challenge the older systems of belief.
About the Author
Keith Thomas is a Fellow of All Souls College, Oxford. He was formerly President of Corpus Christi College and, before that, Professor of Modern History and Fellow of St John's College. He was knighted in 1988 for services to the study of history.
Praise For Religion and the Decline of Magic: Studies in Popular Beliefs in Sixteenth and Seventeenth-Century England…
"Monumental. . . with a living treasure on each page, and probably the book that, in my whole life, I've pressed on other people most energetically. (Selected people, of course. They have to care for history, and they need a sense of wonder and a sense of fun.)  — 
Hilary Mantel, New York Times