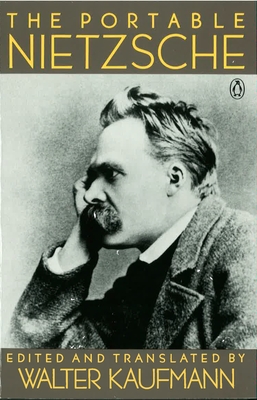 The Portable Nietzsche (Portable Library)
Paperback

* Individual store prices may vary.
Description
The works of Friedrich Nietzsche have fascinated readers around the world ever since the publication of his first book more than a hundred years ago. As Walter Kaufmann, one of the world's leading authorities on Nietzsche, notes in his introduction, "Few writers in any age were so full of ideas," and few writers have been so consistently misinterpreted. The Portable Nietzsche includes Kaufmann's definitive translations of the complete and unabridged texts of Nietzsche's four major works: Twilight of the Idols, The Antichrist, Nietzsche Contra Wagner and Thus Spoke Zarathustra. In addition, Kaufmann brings together selections from his other books, notes, and letters, to give a full picture of Nietzsche's development, versatility, and inexhaustibility. "In this volume, one may very conveniently have a rich review of one of the most sensitive, passionate, and misunderstood writers in Western, or any, literature." —Newsweek
Penguin Classics, 9780140150629, 704pp.
Publication Date: January 27, 1977
About the Author
The philosopher Friedrich Nietzsche was born in Prussia in 1844. After the death of his father, a Lutheran minister, Nietzsche was raised from the age of five by his mother in a household of women. In 1869 he was appointed Professor of Classical Philology at the University of Basel, where he taught until 1879 when poor health forced him to retire. He never recovered from a nervous breakdown in 1889 and died eleven years later. Known for saying that "god is dead," Nietzsche propounded his metaphysical construct of the superiority of the disciplined individual (superman) living in the present over traditional values derived from Christianity and its emphasis on heavenly rewards. His ideas were appropriated by the Fascists, who turned his theories into social realities that he had never intended.