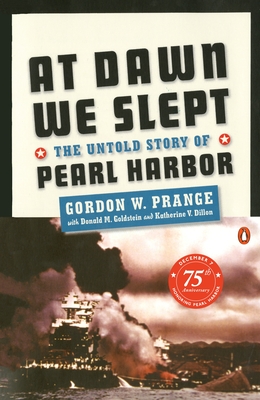 At Dawn We Slept (Paperback)
The Untold Story of Pearl Harbor; Revised Edition
Penguin Books, 9780140157345, 928pp.
Publication Date: December 1, 1991
* Individual store prices may vary.
Description
Revisit the definitive book on Pearl Harbor in advance of the 78th anniversary (December 7, 2019) of the "date which will live in infamy"

At 7:53 a.m., December 7, 1941, America's national consciousness and confidence were rocked as the first wave of Japanese warplanes took aim at the U.S. Naval fleet stationed at Pearl Harbor. As intense and absorbing as a suspense novel, At Dawn We Slept is the unparalleled and exhaustive account of the Japanese bombing of Pearl Harbor. It is widely regarded as the definitive assessment of the events surrounding one of the most daring and brilliant naval operations of all time. Through extensive research and interviews with American and Japanese leaders, Gordon W. Prange has written a remarkable historical account of the assault that-sixty years later-America cannot forget.

"The reader is bound to feel its power....It is impossible to forget such an account." —The New York Times Book Review

"At Dawn We Slept is the definitive account of Pearl Harbor." —Chicago Sun-Times

About the Author
Gordon W. Prange (1910-1980) served during World War II as an officer in the naval reserve and, during the occupation of Japan, served in the General Headquarters as a civilian. He was chief of General Douglas McArthur's G-2 Historical Section and director of the Military History Section. He taught history at the University of Maryland from 1937 until his death.
Praise For At Dawn We Slept: The Untold Story of Pearl Harbor; Revised Edition…
Prange's exhaustive interviews of people on both sides enable him to tell the story in such personal terms that the reader is bound to feel its power....It is impossible to forget such an account. —
The New York Times Book Review
Diligent, thorough, and evenhanded...At Dawn We Slept is the definitive account of Pearl Harbor. —Chicago Sun-Times

 "Fast-paced and engrossing . . . if any book can be called 'definitive,' At Dawn We Slept deserves the accolade."—Los Angeles Herald Examiner

"It will be the single, essential work on the subject from now on."—Houston Chronicle

"An unparalleled historical achievement . . . the account reads with the intensity of a suspense novel."—Milwaukee Journal

"From first to last—responsible, intelligent, absorbing . . . the book is most outstanding." —Kirkus Reviews