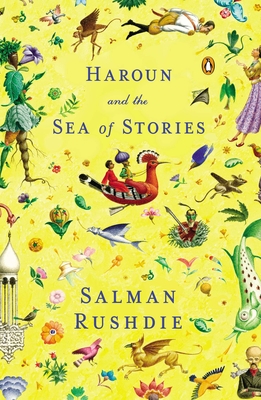 Haroun and the Sea of Stories (Paperback)
Penguin Books, 9780140157376, 224pp.
Publication Date: November 1, 1991
* Individual store prices may vary.
Description
Discover Haroun and the Sea of Stories, Salman Rushdie's classic fantasy novel

Set in an exotic Eastern landscape peopled by magicians and fantastic talking animals, Salman Rushdie's classic children's novel Haroun and the Sea of Stories inhabits the same imaginative space as The Lord of the Rings, The Alchemist, and The Wizard of Oz. In this captivating work of fantasy from the author of Midnight's Children and The Enchantress of Florence, Haroun sets out on an adventure to restore the poisoned source of the sea of stories. On the way, he encounters many foes, all intent on draining the sea of all its storytelling powers.

"Though there is darkness and silence at the center of Chup, most of Haroun and the Sea of Stories is full of comic energy and lively verbal invention. . . .Though [the book] is sure to be enjoyed by children, it also contains amusements for adults." -- The New York Times
About the Author
Born in Bombay in 1947, Salman Rushdie is the author of six novels, including Grimus, Shame, The Satanic Verses, The Moor's Last Sigh, and The Ground Beneath Her Feet, and a volume of essays, Imaginary Homelands. His numerous literary prizes include the Booker Prize for Midnight's Children and the Whitbread Prize for The Satanic Verses.
Praise For Haroun and the Sea of Stories…
"This is, simply put, a book for anyone who loves a good story. It's also a work of literary genius."—Stephen King

"I enjoyed this adventure story.…It involves you at once and keeps you reading, and so it should, for it's from the same magic land as Sinbad, The Thousand and One Nights, The Golden Fleece."—Doris Lessing

"Fantastical, funny, whooping through drama and comedy, good and evil, introducing creatures delightful or frightening, this joyous and tender book is a whole Arabian Nights entertainment."
—Nadine Gordimer, The Times Literary Supplement

"A lively, wonderfully inventive comic tale . . . [Rushdie's] own Sea of Stories from which he drew this entertaining and moving book continues to flow as clear and brilliant as ever."
—Alison Lurie, The New York Times Book Review