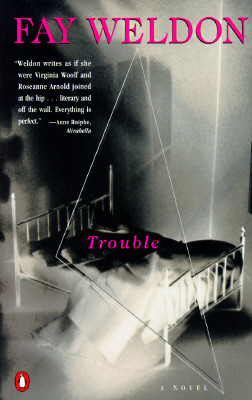 Trouble (Paperback)
Penguin Books, 9780140159165, 240pp.
Publication Date: October 1, 1994
* Individual store prices may vary.
or
Not Currently Available for Direct Purchase
Description
Annette Horrocks has every reason to be happy. She lives in a lovely London house with her devoted husband, Spicer; her first novel is about to be published; and after ten years of trying, she is finally pregnant. But Spicer is cruel and distant. He used to dismiss psychiatry, yet now he spouts New Age astrology and accuses Annette of murdering his inner child. Worse, Annette's friend Gilda discloses that Spicer is having an affair. Annette thinks she is going mad, and that's not even the end of it.
Trouble is fay Weldon's bracing, enticing return to the vengeful mode of The Life and Loves of a She-Deviland a reminder that, while marriage has been a nightmare through the ages, now husbands have psychiatrists to make it worse.
About the Author
Fay Weldon was raised in a household of women in New Zealand, and produced four sons of her own, as if to balance the gender count. After taking degrees in economics and psychology at the University of Edinburgh, she survived a decade of odd jobs and hard times, then began writing film and television scripts and fiction. Among her eighteen novels and short-story collections are Trouble, Life Force, The Cloning of Joanna May, Darcy's Utopia, The Shrapnel Academy, The Life and Loves of a She-devil, Leader of the Band, Puffball, and The Heart of the Country, winner of the 1989 Los Angeles Times Fiction Award. Fay Weldon lives in London and Somerset.
Praise For Trouble…
"Weldon writes as if she were Virginia Woolf and Roseanne Arnold joined at the hip literary and off the wall. Everything is perfect."
Anne Roiphe, Mirabella

"A fiercely funny tale of nuptial betrayal"
Chicago Tribune

"Impossible to put down A wickedly splendid showcase of Weldon's genius with dialogue and satire on modern culture, proving once again that she is a virtuoso of dark humor and dangerous wit"
San Francisco Chronicle

"A tough, funny, smart, and ultimately moving novel"
New York Newsday
Advertisement