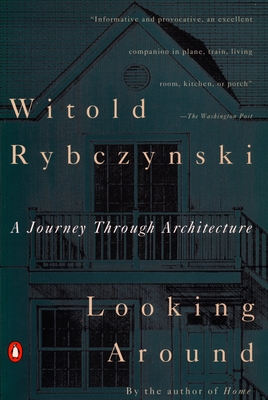 Looking Around (Paperback)
A Journey Through Architecture
Penguin Books, 9780140168891, 320pp.
Publication Date: December 1, 1993
* Individual store prices may vary.
Description
From the opening sentences of his first book on architecture,
Home
, Witold Rybczynski seduced readers into a new appreciation of the spaces they live in. He also introduced us to "an unerringly lucid writer who knows how to translate architectural ideas into layman's terms" (
The Dallas Morning News
). Rybczynski's vast knowledge, his sense of wonder, and his elegantly uncluttered prose shine on every page of his latest meditation on the art of building.
Looking Around is about architecture as an art of compromise—between beauty and function, aspiration and engineering, builders and clients. It is the story of the Seagram Building in New York and the Wexner Center for the Visual Arts in Columbus, Ohio—a museum that opened without a single painting on view, so that critics could better appreciate its design. But what of the visitors who want a building that displays art well? What of those who work in the building? Looking Around explores the notion of the architect as superstar and assesses giants from Palladio to Michael Graves, styles from classicism to high tech. It demonstrates how architecture actually works—or doesn't—in corporate headquarters, airports, private homes, and the special buildings designed to represent our civilization.
For all its erudition, Looking Around is also bracingly straightforward. Rybczynski looks closely and critically at structures that may once have dazzled us with their ostentation and expense, and sees them as triumphs or failures—of aesthetic ideals and of lasting function. This is a fascinating and illuminating book about an art form integral to our lives.
About the Author
Witold Rybczynski of Polish parentage, was born in Edinburgh in 1943, raised in Surrey, and attended Jesuit schools in England and Canada. He received Bachelor of Architecture (1960) and Master of Architecture (1972) degrees from McGill University in Montreal. He is the author of more than fifty articles and papers on the subject of housing, architecture, and technology, including the books Taming the Tiger, Paper Heroes, The Most Beautiful House in the World, Waiting for the Weekend, and Looking Around: A Journey Through Architecture (all available in Penguin), and most recently, City Life. He lives with his wife, Shirley Hallam, in Philadelphia and is the Martin and Margy Myerson Professor of Urbanism at the University of Pennsylvania.
Praise For Looking Around: A Journey Through Architecture…
"Informative and provocative, an excellent companion in plance, train, living room, kitchen, or porch"
—
The Washington Post
"You only have to look around to see how thought-provoking these essays are."
—The New York Times
"His best work to date."
—The Boston Sunday Globe
or
Not Currently Available for Direct Purchase