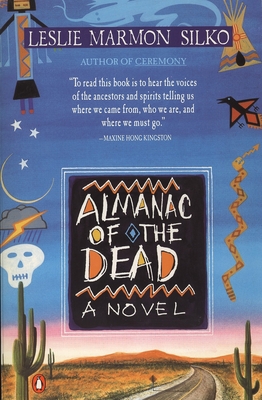 Almanac of the Dead
Paperback

* Individual store prices may vary.
Description
"To read this book is to hear the voices of the ancestors and spirits telling us where we came from, who we are, and where we must go." —Maxine Hong Kingston

In its extraordinary range of character and culture, Almanac of the Dead is fiction on the grand scale. The acclaimed author of Ceremony has undertaken a weaving of ideas and lives, fate and history, passion and conquest in an attempt to re-create the moral history of the Americas, told from the point of view of the conquered, not the conquerors.
Praise For Almanac of the Dead…
Praise for Almanac of the Dead:

"The best way to read Almanac of the Dead is to let it wash over you like a wave. It's brisk and gorgeous . . . and it will sweep you off your feet . . . There is genius in the sheer, tireless variousness of the novel's interconnecting tales . . . Almanac of the Dead burns at an apocalyptic pitch—passionate indictment, defiant augury, bravura storytelling." —Elizabeth Tallent, The New York Times Book Review

"A brilliant, haunting, and tragic novel of ruin and resistance in the Americas. In a long dialectic, tinted with genius and compelled by a just anger, Silko dramatizes the often desperate struggle of native peoples in the Americas to keep, at all costs, the core of their culture: their way of seeing, their way of believing, their way of being. If Karl Marx had chosen to make Das Kapital a novel set in the Americas, he might have come out with a book something like this." —Larry McMurtry, author of Lonesome Dove

"[Almanac of the Dead], both of its time and prescient, reflects an Indigenous conception of history as always simultaneously forming our present and future. Silko's calling as a storyteller emerges from her grounding in the oral tradition of the Laguna Pueblo, though she also seeks common threads of thinking across tribal philosophies of the Americas, where in many cases time is understood as nonlinear . . . Silko noted with care the past that made her present, saw the lines of movement and force that yoked together racial violence, Indigenous dispossession, and the militarization of arbitrary political borders. . . . In 1991, a book like Almanac had never been produced in Native American literature, and nothing like it has been produced since." —Lou Cornum, Lit Hub

"A masterwork of American literature, the most powerful, gripping novel I've read in years." —Tony Hillerman

"It's simply splendid, and I can't stress too much how happy I am to have this book in the world." —Toni Morrison

"One of the most ambitious literary undertakings of the past quarter century." —The New Republic

"Leslie Marmon Silko's Almanac of the Dead is an extraordinary book, a work of immense creative power. Epic in scope, this is not something to take along for a weekend's light reading. The book's central theme is the clash of two civilizations—a clash which has persisted ever since the first Spaniards arrived in the Land of the Pueblos some 450 years ago. Almanac of the Dead is a landmark in Native American literature—the Indian War and Peace." —Richard Erdoes, author of Lame Deer, Seeker of Visions

"To read this book is to hear the voices of the ancestors and spirits telling us where we came from, who we are, and where we must go." —Maxine Hong Kingston
Penguin Books, 9780140173192, 768pp.
Publication Date: November 1, 1992
About the Author
Leslie Marmon Silko was born in 1948 to a family whose ancestry includes Mexican, Laguna Indian, and European forebears. She has said that her writing has at its core "the attempt to identify what it is to be a half-breed or mixed-blood person." As she grew up on the Laguna Pueblo Reservation, she learned the stories and culture of the Laguna people from her great-grandmother and other female relatives. After receiving her B. A. in English at the University of New Mexico, she enrolled in the University of New Mexico law school but completed only three semesters before deciding that writing and storytelling, not law, were the means by which she could best promote justice. She married John Silko in 1970. Prior to the writing of
Ceremony
, she published a series of short stories, including "The Man to Send Rain Clouds." She also authored a volume of poetry,
Laguna Woman: Poems
, for which she received the Pushcart Prize for Poetry.
In 1973, Silko moved to Ketchikan, Alaska, where she wrote Ceremony. Initially conceived as a comic story abut a mother's attempts to keep her son, a war veteran, away from alcohol, Ceremony gradually transformed into an intricate meditation on mental disturbance, despair, and the power of stories and traditional culture as the keys to self-awareness and, eventually, emotional healing. Having battled depression herself while composing her novel, Silko was later to call her book "a ceremony for staying sane." Silko has followed the critical success of Ceremony with a series of other novels, including Storyteller, Almanac for the Dead, and Gardens in the Dunes. Nevertheless, it was the singular achievement of Ceremony that first secured her a place among the first rank of Native American novelists. Leslie Marmon Silko now lives on a ranch near Tucson, Arizona.