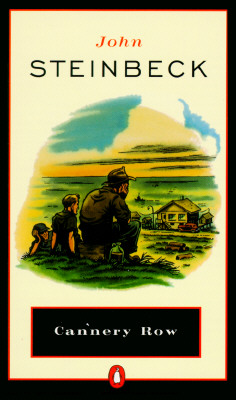 Cannery Row
Paperback

* Individual store prices may vary.
Other Editions of This Title:
Digital Audiobook (5/10/2011)
Paperback (2/1/1994)
Paperback (2/5/2002)
CD-Audio (6/29/2011)
Paperback (9/7/2003)
Description
Unburdened by the material necessities of the more fortunate, the denizens of Cannery Row discover rewards unknown in more traditional society.

Henry the painter sorts through junk lots for pieces of wood to incorporate into the boat he is building, while the girls from Dora Flood's bordello venture out now and then to enjoy a bit of sunshine. Lee Chong stocks his grocery with almost anything a man could want, and Doc, a young marine biologist who ministers to sick puppies and unhappy souls, unexpectedly finds true love

Cannery Row is just a few blocks long, but the story it harbors is suffused with warmth, understanding, and a great fund of human values.

First published in 1945, Cannery Row focuses on the acceptance of life as it is—both the exuberance of community and the loneliness of the individual. John Steinbeck draws on his memories of the real inhabitants of Monterey, California, and interweaves their stories in this world where only the fittest survive—creating what is at once one of his most humorous and poignant works. In Cannery Row, John Steinbeck returns to the setting of Tortilla Flat to create another evocative portrait of life as it is lived by those who unabashedly put the highest value on the intangibles—human warmth, camaraderie, and love.
Praise For Cannery Row…
"Steinbeck has compounded a bitter and uproariously funny commentary on the futility of human aspiration and the barrenness of existence . . . an extraordinary mixture of wild laughter and searing pain." 
— The New York Herald Tribune

"It's one of the most thoroughly enjoyable and delicious books you'll ever have the fortune to read." 
—Chicago Sun Times

"Everything is always somehow overlaid with laughter, the special kind of laughter and contentment with one's lot, however humble, that only John Steinbeck can put into words. . . . John Steinbeck sees his characters with deep compassion as well as amusement." 
—Chicago Sunday Tribune
Penguin Books, 9780140177381, 208pp.
Publication Date: February 1, 1993
About the Author
John Steinbeck
, born in Salinas, California, in 1902, grew up in a fertile agricultural valley, about twenty-five miles from the Pacific Coast. Both the valley and the coast would serve as settings for some of his best fiction. In 1919 he went to Stanford University, where he intermittently enrolled in literature and writing courses until he left in 1925 without taking a degree. During the next five years he supported himself as a laborer and journalist in New York City, all the time working on his first novel,
Cup of Gold
(1929).
After marriage and a move to Pacific Grove, he published two California books, The Pastures of Heaven (1932) and To a God Unknown (1933), and worked on short stories later collected in The Long Valley (1938). Popular success and financial security came only with Tortilla Flat (1935), stories about Monterey's paisanos. A ceaseless experimenter throughout his career, Steinbeck changed courses regularly. Three powerful novels of the late 1930s focused on the California laboring class: In Dubious Battle (1936), Of Mice and Men (1937), and the book considered by many his finest, The Grapes of Wrath (1939). The Grapes of Wrath won both the National Book Award and the Pulitzer Prize in 1939.
Early in the 1940s, Steinbeck became a filmmaker with The Forgotten Village (1941) and a serious student of marine biology with Sea of Cortez (1941). He devoted his services to the war, writing Bombs Away (1942) and the controversial play-novelette The Moon is Down (1942). Cannery Row (1945), The Wayward Bus (1948), another experimental drama, Burning Bright (1950), and The Log from the Sea of Cortez (1951) preceded publication of the monumental East of Eden (1952), an ambitious saga of the Salinas Valley and his own family's history.
The last decades of his life were spent in New York City and Sag Harbor with his third wife, with whom he traveled widely. Later books include Sweet Thursday (1954), The Short Reign of Pippin IV: A Fabrication (1957), Once There Was a War (1958), The Winter of Our Discontent (1961), Travels with Charley in Search of America (1962), America and Americans (1966), and the posthumously published Journal of a Novel: The East of Eden Letters (1969), Viva Zapata! (1975), The Acts of King Arthur and His Noble Knights (1976), and Working Days: The Journals of The Grapes of Wrath (1989).
Steinbeck received the Nobel Prize in Literature in 1962, and, in 1964, he was presented with the United States Medal of Freedom by President Lyndon B. Johnson. Steinbeck died in New York in 1968. Today, more than thirty years after his death, he remains one of America's greatest writers and cultural figures.
or
Not Currently Available for Direct Purchase