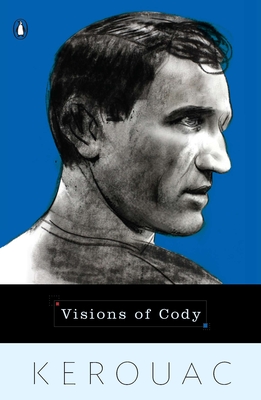 Visions of Cody
Paperback

* Individual store prices may vary.
Description
"What I'm beginning to discover now is something beyond the novel and beyond the arbitrary confines of the story. . . . I'm making myself seek to find the wild form, that can grow with my wild heart . . . because now I know MY HEART DOES GROW." —Jack Kerouac, in a letter to John Clellon Holmes

An underground legend by the time it was finally published in 1972, Visions of Cody captures the members of the Beat Generation in the years before any label had been affixed to them, with Kerouac's trademark appreciation for the ecstatic and ephemeral moments of life

An experimental novel which remained unpublished for years, Visions of Cody is Kerouac's fascinating examination of his own New York life, in a collection of colourful stream-of-consciousness essays. Transcribing taped conversations between members of their group as they took drugs and drank, this book reveals an intimate portrait of people caught up in destructive relationships with substances, and one another. Always transfixed by Neal Cassady—the Cody of the title, renamed for the book along with Allen Ginsberg and William Burroughs—Kerouac also explores the feelings he had for a man who would inspire much of his work.
Praise For Visions of Cody…
"[Y]ou will find some of Kerouac's very best writing in this book.  It is funny, it is serious. It is eloquent. To read "On the Road" but not "Visions of Cody" is to take a nice sightseeing tour but to forgo the spectacular rapids of Jack Kerouac's wildest writing." —The New York Times Book Review

"Visions of Cody is [Kerouac's] greatest book, according to his own opinion, and its music is testimony to [his] verbal inventiveness and virtuosity . . . the range and variation of style within his remarkably growing bookshelf is just as remarkable . . . there is a grace, a majesty, and a tenderness to his language . . . both the inspiration and the content of this literature is of an intuitive, emotional, and mystical nature." —The Village Voice

"The most sincere and holy writing I know of our age." —Allen Ginsburg
Penguin Books, 9780140179071, 448pp.
Publication Date: August 1, 1993
About the Author
Jack Kerouac was born in Lowell, Massachusetts, in 1922, the youngest of three children in a Franco-American family. He attended local Catholic and public schools and won a scholarship to Columbia University in New York City, where he first met Neal Cassady, Allen Ginsberg, and William S. Burroughs. His first novel, The Town and the City, appeared in 1950, but it was On the Road, published in 1957 and memorializing his adventures with Neal Cassady, that epitomized to the world what became known as the "Beat generation" and made Kerouac one of the most best-known writers of his time. Publication of many other books followed, among them The Dharma Bums, The Subterraneans, and Big Sur. Kerouac considered all of his autobiographical fiction to be part of "one vast book," The Duluoz Legend. He died in St. Petersburg, Florida, in 1969, at the age of forty-seven.