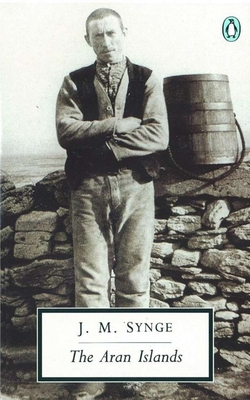 The Aran Islands (Classic, 20th-Century, Penguin) (Paperback)
Penguin Classics, 9780140184327, 208pp.
Publication Date: November 3, 1992
Other Editions of This Title:
Paperback (2/13/2006)
Paperback (9/13/2006)
Paperback (11/25/2011)
Paperback, Large Print (5/15/2006)
Paperback (2/19/2020)
Paperback (5/29/2008)
Paperback (5/22/2006)
Paperback, Large Print (8/3/2011)
Paperback (1/1/2009)
Paperback (12/17/2008)
Paperback (1/1/2009)
Paperback, Large Print (2/14/2008)
Hardcover (5/5/2011)
Hardcover (10/27/2009)
Hardcover (10/27/2009)
Paperback (6/17/2004)
Paperback (8/11/2018)
* Individual store prices may vary.
Description
The foremost account of Ireland's cultural and spiritual heritage

In 1907 J. M. Synge achieved both notoriety and lasting fame with The Playboy of the Western World. The Aran Islands, published in the same year, records his visits to the islands in 1898-1901, when he was gathering the folklore and anecdotes out of which he forged The Playboy and his other major dramas. Yet this book is much more than a stage in the evolution of Synge the dramatist. As Tim Robinson explains in his introduction, "If Ireland is intriguing as being an island off the west of Europe, then Aran, as an island off the west of Ireland, is still more so; it is Ireland raised to the power of two." Towards the end of the last century Irish nationalists came to identify the area as the country's uncorrupted heart, the repository of its ancient language, culture and spiritual values. It was for these reasons that Yeats suggested Synge visit the islands to record their way of life. The result is a passionate exploration of a triangle of contradictory relationships – between an island community still embedded in its ancestral ways but solicited by modernism, a physical environment of ascetic loveliness and savagely unpredictable moods, and Synge himself, formed by modern European thought but in love with the primitive.

For more than seventy years, Penguin has been the leading publisher of classic literature in the English-speaking world. With more than 1,700 titles, Penguin Classics represents a global bookshelf of the best works throughout history and across genres and disciplines. Readers trust the series to provide authoritative texts enhanced by introductions and notes by distinguished scholars and contemporary authors, as well as up-to-date translations by award-winning translators.
About the Author
John Millington Synge was born in 1871 of an old Anglo-Irish family. Due to ill-health he was educated mainly by private tutors before studying at Trinity College Dublin and the Royal Irish Academy of Music. He went to Germany to continue his musical studies in 1893 and then, turning to literature, moved to Paris in 1895. There he met W.B. Yeats, who suggested he go to the Aran Islands to live with the islanders as one of themselves and to "express a life that has never found expression." He spent a few weeks on the islands each year from 1898 to 1902. The Aran Islands did not appear until 1907, but it was his experiences in Aran that gave him the plots of his plays In the Shadow of the Glen (1903), The Riders to the Sea (1904) and The Well of the Saints (1905). His emergence as a playwright coincided with and furthered the Irish dramatic revival. He was first a literary adviser and then a director of the Abbey Theatre in Dublin, where the first performances of his plays provoked violent controversies. His most famous work, The Playboy of the Western World, which was suggested by an anecdote he had heard in Aran, unleashed a riot in the theater at its first performance in 1907. Synge was in love with the young actress, Molly Allgood, who played the principal female role in this play, and it was she who inspired his play Deirdre of the Sorrows, left unfinished at his early death in 1909. Another of his earlier plays, The Tinker's Wedding, had been regarded both by Synge and Yeats as too dangerous to put on in Dublin, and it was not seen there until 1971.

Tim Robinson was born in England in 1935, studied mathematics at Cambridge and taught the subject in Turkey. He then worked as a visual artist under the name of Timothy Drever, first in Vienna and later in London, where there were several exhibitions of his abstract paintings and environmental installations in the 1960s. In 1972 he went to live in the Aran Islands, and began writing and making maps. He now lives in Roundstone, Connemara, where he and his wife run the Folding Landscapes studio, which publihses his maps and related writings on the west of Ireland.