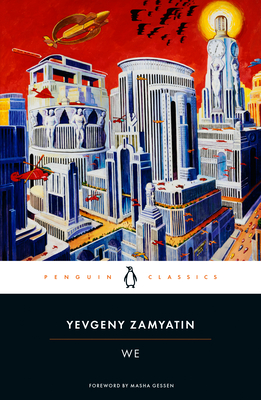 We: New Edition (Paperback)
New Edition
Penguin Books, 9780140185850, 256pp.
Publication Date: August 1, 1993
Description
The exhilarating dystopian novel that inspired George Orwell's 1984 and foreshadowed the worst excesses of Soviet Russia Yevgeny Zamyatin's We is a powerfully inventive vision that has influenced writers from George Orwell to Ayn Rand. In a glass-enclosed city of absolute straight lines, ruled over by the all-powerful 'Benefactor', the citizens of the totalitarian society of OneState live out lives devoid of passion and creativity - until D-503, a mathematician who dreams in numbers, makes a discovery: he has an individual soul. Set in the twenty-sixth century AD, We is the classic dystopian novel and was the forerunner of works such as George Orwell's 1984 and Aldous Huxley's Brave New World. It was suppressed for many years in Russia and remains a resounding cry for individual freedom, yet is also a powerful, exciting and vivid work of science fiction. Clarence Brown's brilliant translation is based on the corrected text of the novel, first published in Russia in 1988 after more than sixty years' suppression.
About the Author
Yevgeny Ivanovich Zamyatin (1884-1937) was a naval architect by profession and a writer by nature. His favorite idea was the absolute freedom of the human personality to create, to imagine, to love, to make mistakes, and to change the world. This made him a highly inconvenient citizen of two despotisms, the tsarist and the Communist, both of which exiled him, the first for a year, the latter forever. He wrote short stories, plays, and essays, but his masterpiece is We, written in 1920-21 and soon thereafter translated into most of the languages of the world. It first appeared in Russia only in 1988. It is the archetype of the modern dystopia, or anti-utopia; a great prose poem on the fate that might befall all of us if we surrender our individual selves to some collective dream of technology and fail in the vigilance that is the price of freedom. George Orwell, the author of 1984, acknowledged his debt to Zamyatin. The other great English dystopia of our time, Aldous Huxley's Brave New World, was evidently written out of the same impulse, though without direct knowledge of Zamyatin's We.Clarence Brown is the author of several works on the Russian poetOsip Mandelstam. He is editor of The Portable Twentieth-Century RussianReader, which contains his translation of Zamyatin's short story "TheCave," and of Yury Olesha's novel Enpy.
Advertisement