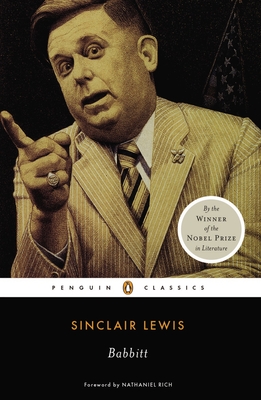 Babbitt (Paperback)
Penguin Classics, 9780140189025, 400pp.
Publication Date: April 1, 1996
Other Editions of This Title:
Digital Audiobook (12/12/2010)
Digital Audiobook (4/28/2011)
Digital Audiobook (4/20/2011)
Digital Audiobook (11/30/2007)
Paperback (8/29/2018)
Paperback (9/2/2014)
Paperback (2/22/2014)
Paperback (3/30/2014)
Paperback (4/9/2015)
Paperback, Spanish (11/29/2015)
Paperback (9/22/2011)
Paperback (2/14/2020)
Paperback (11/17/2015)
Paperback (7/26/2018)
* Individual store prices may vary.
Description
The masterpiece of Nobel Prize winner Sinclair Lewis

A Penguin Classic

George F. Babbitt, a conniving, prosperous real estate man from Zenith, Ohio, revels in his popularity, his success, and, especially, in the material rewards they bring. He bullies his wife, flirts with other women, and patronizes the less successful. But when his best friend is sent to prison for killing his wife, Babbitt's middle-class complacency is shattered, and he rebels, seeking a more "meaningful" life. His small revolt is quickly defeated, however, by public opinion and his own need for acceptance. Babbitt captures the flavor of America during the economic boom years of the 1920's, and its protagonist has become the symbol of middle-class mediocrity, his name an enduring part of the American lexicon.

For more than seventy years, Penguin has been the leading publisher of classic literature in the English-speaking world. With more than 1,700 titles, Penguin Classics represents a global bookshelf of the best works throughout history and across genres and disciplines. Readers trust the series to provide authoritative texts enhanced by introductions and notes by distinguished scholars and contemporary authors, as well as up-to-date translations by award-winning translators.
About the Author
Sinclair Lewis (1885-1951) was born in Sauk Centre, Minnesota, and graduated from Yale University in 1908. His college career was interrupted by various part-time occupations, including a period working at the Helicon Home Colony, Upton Sinclair's socialist experiment in New Jersey. He worked for some years as a freelance editor and journalist, during which time he published several minor novels. But with the publication of Main Street (1920), which sold half a million copies, he achieved wide recognition. This was followed by the two novels considered by many to be his finest, Babbitt (1922) and Arrowsmith (1925), which was awarded the Pulitzer Prize in 1926, but declined by Lewis. In 1930, following Elmer Gantry (1927) and Dodsworth (1929), Sinclair Lewis became the first American author to be awarded the Nobel Prize for distinction in world literature. This was the apogee of his literary career, and in the period from Ann Vickers (1933) to the posthumously published World So Wide (1951) Lewis wrote ten novels that reveal the progressive decline of his creative powers. From Main Street to Stockholm, a collection of his letters, was published in 1952, and The Man from Main Street, a collection of essays, in 1953. During his last years Sinclair Lewis wandered extensively in Europe, and after his death in Rome, his ashes were returned to his birthplace.
Praise For Babbitt…
By the Winner of the Nobel Prize in Literature

"It is Babbitt that is [Sinclair Lewis's] most perfect creation. . . . We have to be thankful for the minor miracle that after almost a century, Babbitt still speaks to us all." —Azar Nafisi, in The Republic of Imagination

"Babbitt is now well into its nineties, but George F. Babbitt still lives and breathes and harrumphs. It's impossible, especially during any American election season, to read a newspaper or turn on the television without hearing the echoes of his voice. Babbitt is the original American everyman." —Nathaniel Rich, from the Foreword

"The equal of any novel written in English in the present century." —Virginia Woolf, The Saturday Review