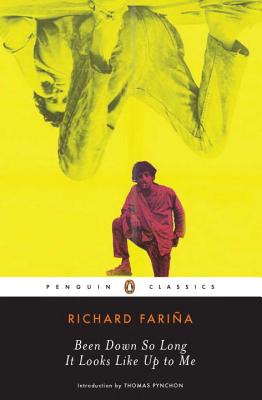 Been Down So Long It Looks Like Up to Me (Paperback)
Penguin Books, 9780140189308, 352pp.
Publication Date: May 1, 1996
Description
A witty, psychedelic, and telling novel of the 1960s Richard Farina evokes the Sixties as precisely, wittily, and poignantly as F. Scott Fitzgerald captured the Jazz Age. The hero, Gnossus Pappadopoulis, weaves his way through the psychedelic landscape, encountering-among other things-mescaline, women, art, gluttony, falsehood, science, prayer, and, occasionally, truth. For more than seventy years, Penguin has been the leading publisher of classic literature in the English-speaking world. With more than 1,700 titles, Penguin Classics represents a global bookshelf of the best works throughout history and across genres and disciplines. Readers trust the series to provide authoritative texts enhanced by introductions and notes by distinguished scholars and contemporary authors, as well as up-to-date translations by award-winning translators.
About the Author
Richard Farina was killed in a motorcycle accident in Carmel, California, on April 30, 1966-two days after the publication of Been Down So Long It Looks Like Up to Me. A posthumous collection of his writings, Long Time Coming and a Long Time Gone, was published in 1969. Thomas Pynchon was born in Glen Cove, New York, in 1937. He is the author of The Crying of Lot 49, V., Vineland, Slow Learner, and Mason & Dixon, among other novels.
Advertisement