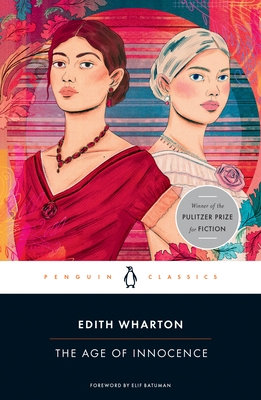 The Age of Innocence
Paperback

* Individual store prices may vary.
Other Editions of This Title:
Paperback (7/11/1997)
Paperback (7/5/1994)
Description
Edith Wharton's acclaimed novel of love, duty, and half-known truths in Gilded Age New York society, with a foreword by bestselling author Elif Batuman

Dutiful Newland Archer, an eligible young man from New York high society, is about to announce his engagement to May Welland, a suitable match from a good family, when May's cousin, the beautiful and exotic Countess Ellen Olenska, is introduced into their circle. The Countess brings with her an aura of European sophistication and a hint of perceived scandal, having left her husband and claimed her independence. Her worldliness, disregard for society's rules, and air of unapproachability attract the sensitive Newland, despite his enthusiasm about a marriage to May and the societal advantages it would bring. Almost against their will, Newland and Ellen develop a passionate bond, and a classic love triangle takes shape as the three young people find themselves drawn into a poignant and bitter conflict between love and duty. Written in 1920, Edith Wharton's Pulitzer Prize-winning novel about a time and place long gone by—1870s New York City—beautifully captures the complexities of passion, independence, and fulfillment, and how painfully hard it can be for individuals to truly see one another and their place in the world.

For more than seventy years, Penguin has been the leading publisher of classic literature in the English-speaking world. With more than 1,700 titles, Penguin Classics represents a global bookshelf of the best works throughout history and across genres and disciplines. Readers trust the series to provide authoritative texts enhanced by introductions and notes by distinguished scholars and contemporary authors, as well as up-to-date translations by award-winning translators.
Praise For The Age of Innocence…
"Wharton is not generally viewed as one of literature's great optimists, and yet, by the last chapter of The Age of Innocence, people are a little less hypocritical, a little more willing to see and accept the world. ... A larger life and more tolerant views: that's the greatest promise the novel holds out to us, and it's as necessary now as it was when Edith Wharton put it into words."
—Elif Batuman, author of The Idiot, from the foreword

"Will writers ever recover that peculiar blend of security and alertness which characterizes Mrs. Wharton and her tradition?"
—E. M. Forster
Penguin Classics, 9780140189704, 368pp.
Publication Date: March 1, 1996
About the Author
Edith Wharton (1862-1937) was born Edith Newbold Jones. A member of a distinguished New York family, she was educated privately in America and abroad. During her life, she published more than forty volumes: novels, stories, verse, essays, travel books, and memoirs. She was the first woman to win the Pulitzer Prize for Fiction, for The Age of Innocence, in 1921.

Elif Batuman is the author of The Idiot, a finalist for the 2018 Pulitzer Prize in fiction, and The Possessed: Adventures with Russian Books and the People Who Read Them, a finalist for a National Book Critics Circle Award in criticism. She has been a staff writer at the New Yorker since 2010. 

Sarah Blackwood is an associate professor of English at Pace University. Her criticism has appeared in the New Yorker, the New Republic, the Los Angeles Review of Books, and elsewhere.
Why does Archer neglect to tell Countess Olenska of his engagement to May Welland, despite the fact that May has instructed him to do so?
Why does Archer suddenly realize that marriage is "not the safe anchorage he had been taught to think, but a voyage on uncharted seas"? (p. 35)
Why does Archer feel "oppressed" when contemplating the "factitious purity" of his betrothed? (p. 37)
Why is Countess Olenska a threat to the social order that claims Archer as one of its kind?
Why is the neighborhood where Countess Olenska resides a "queer quarter for such a beauty to settle in"? (p. 99)
To what is Archer referring when he thinks about his peers that "over many of them the green mould of the perfunctory was already perceptibly spreading"? (p. 103)
What does Archer mean when he thinks that "it was wonderful that…such depths of feeling could coexist with such absence of imagination"? (p. 154)
How does Archer feel about May's talent with her bow and arrow? Why does he so often feel "cheated…into momentary well-being"? (p. 173)
When Archer, at the request of Mrs. Mingott, follows the path to the shore to fetch Countess Olenska, why does he say to himself, "If she doesn't turn before that sail crosses the Lime Rock light I'll go back"? (p. 177)
What kind of "code" exists between Archer and May? How does it work? What is its origin? (p. 219)
Why does May decide to host the farewell dinner for the Countess Olenska? Why does Archer think of the dinner guests as "a band of dumb conspirators"? (p. 276)
Why does Archer walk away from a potential reunion with Countess Olenska?