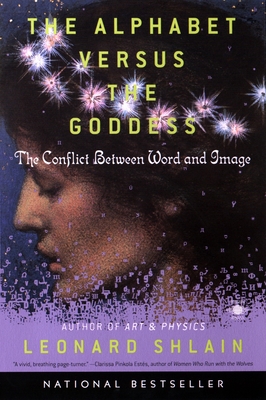 The Alphabet Versus the Goddess (Paperback)
The Conflict Between Word and Image (Compass)
Penguin Books, 9780140196016, 496pp.
Publication Date: September 1, 1999
Other Editions of This Title:
Compact Disc (12/26/2017)
MP3 CD (12/26/2017)
Hardcover (9/1/1998)
* Individual store prices may vary.
Description
This groundbreaking book proposes that the rise of alphabetic literacy reconfigured the human brain and brought about profound changes in history, religion, and gender relations. Making remarkable connections across brain function, myth, and anthropology, Dr. Shlain shows why pre-literate cultures were principally informed by holistic, right-brain modes that venerated the Goddess, images, and feminine values. Writing drove cultures toward linear left-brain thinking and this shift upset the balance between men and women, initiating the decline of the feminine and ushering in patriarchal rule. Examining the cultures of the Israelites, Greeks, Christians, and Muslims, Shlain reinterprets ancient myths and parables in light of his theory. Provocative and inspiring, this book is a paradigm-shattering work that will transform your view of history and the mind.
About the Author
Leonard Shlain is the author of Art & Physics: Parallel Visions in Space, Time & Light, and The Alphabet Versus the Goddess: The Conflict Between Word and Image. He is the chief of laparoscopic surgery at California Medical Center in San Francisco.