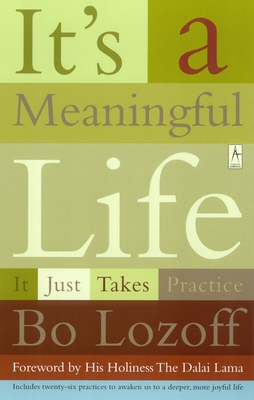 It's a Meaningful Life: It Just Takes Practice (Paperback)
It Just Takes Practice
Penguin Books, 9780140196245, 304pp.
Publication Date: March 1, 2001
Description
Here is a universal, time-tested path for finding true meaning and joy in every aspect of our lives. Drawing on his 30 years of teaching and service, Bo Lozoff shows why compassion--not success, self-improvement, or self-esteem--is at the root of happiness. In 26 intimate, inspiring chapters--each accompanied by a specific practice--Lozoff covers themes such as developing honesty, learning humility, dealing with anger, and honoring relationships. He shows how practices such as a daily vow of kindness or a simple commitment of time with others can have a profound effect on ourselves and our world. Lozoff's stories and lessons can awaken everyone to a happier and more fulfilled life.
About the Author
Bo Lozoff is a spiritual activist and co-founder of the Human Kindness Foundation, which sponsors the Prison-Ashram Project (founded twenty-five years ago with Ram Dass), a quarterly newsletter, and Kindness House (a spiritual community that is open to visitors). He holds an honorary doctorate from the Chicago Theological Seminary. He has lectured in hundreds of prisons, universities, churches, and spiritual centers around the world and his work has been featured in many national publications. He lives outside of Durham, North Carolina.
Advertisement