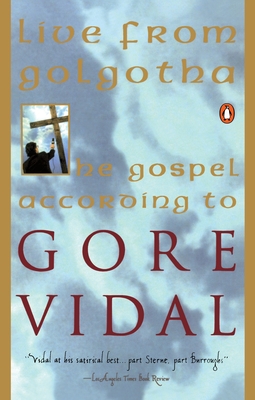 Live from Golgotha (Paperback)
The Gospel According to Gore Vidal
Penguin Books, 9780140231199, 240pp.
Publication Date: October 1, 1993
Description
Timothy (later St. Timothy) is in his study in Thessalonika, where he is bishop of Macedonia. It is A.D. 96, and Timothy is under terrific pressure to record his version of the Sacred Story, since, far in the future, a cyberpunk (the Hacker) has been systematically destroying the tapes that describe the Good News, and Timothy's Gospel is the only one immune to the Hacker's deadly virus. Meanwhile, thanks to a breakthrough in computer software, an NBC crew is racing into the past to capture--live from the suburb of Golgotha--the Crucifixion, for a TV special guaranteed to boost the network's ratings in the fall sweeps.
As a stream of visitors from twentieth-century America channel in to the first-century Holy Land--Mary Baker Eddy, Shirley MacLaine, Oral Roberts and family--Timothy struggles to complete his story. But is Timothy's text really Hacker-proof? And how will he deal with the truth about Jesus' eating disorder? Above all, will he get the anchor slot for the Big Show at Golgotha without representation by a major agency, like CAA 1,896 years in the future? Tune in.

About the Author
Gore Vidal (1925-2012) was born Eugene Luther Vidal, later adopting the surname of his grandfather, Senator Thomas Gore, as his first name. Well known as a novelist, an essayist, a playwright, and a social and political commentator, he was the author of numerous novels--the first, Williwaw, written when he was twenty-one--as well as scripts for film, television and the stage, including the extremely successful The Best Man and Visit to a Small Planet. His other novels include Myra Breckenridge (1968), as well as thehistorical novels in the series Narratives of Empire, which includes Burr (1973), 1876 (1976), Lincoln (1984), Empire (1987), Hollywood (1990), and The Golden Age (2000). He won the National Book Award in 1993 for his book of essays, United States: Essays (1952-1992).
Advertisement