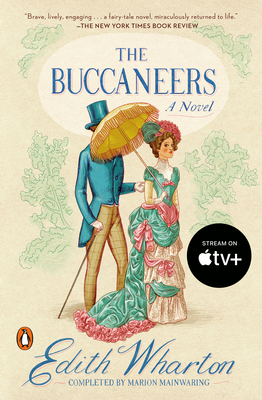 The Buccaneers
A Novel
Paperback

* Individual store prices may vary.
Other Editions of This Title:
Digital Audiobook (9/16/2008)
Description
"Brave, lively, engaging . . . a fairy-tale novel, miraculouly returned to life." —The New York Times Book Review

Edith Wharton's spellbinding final novel, telling a story of love in the gilded age that crossed the boundaries of society, soon to be an Apple Original Series on Apple TV+

Set in the 1870s, the same period as Wharton's The Age of Innocence, The Buccaneers is about five wealthy American girls denied entry into New York Society because their parents' money is too new. At the suggestion of their clever governess, the girls sail to London, where they marry lords, earls, and dukes who find their beauty charming—and their wealth extremely useful.

After Wharton's death in 1937, The Christian Science Monitor said, "If it could have been completed, The Buccaneers would doubtless stand among the richest and most sophisticated of Wharton's novels." Now, with wit and imagination, Marion Mainwaring has finished the story, taking her cue from Wharton's own synopsis. It is a novel any Wharton fan will celebrate and any romantic reader will love. This is the richly engaging story of Nan St. George and Guy Thwarte, an American heiress and an English aristocrat, whose love breaks the rules of both their societies.
Praise For The Buccaneers: A Novel…
"Brave, lively, engaging . . . a fairy-tale novel, miraculouly returned to life." —The New York Times Book Review

"The Buccaneers brilliantly showcases Wharton near the top of her form." —Chicago Tribune

"Mainwaring has added gloss to the story's original elegance and wit, and the novel emerges like a master's painting from the hands of a highly skilled restorer." —Leon Edel, author of the Pulitzer Prize and National Book Award-winning Henry James: A Life

"Mainwaring's version of The Buccaneers is a tour de force. . . . [She] deserves high marks for her ingenuity, novelistic skill, and critical intelligence." —USA Today

"A sense of unobtrusive accuracy of tone and detail prevails throughout Ms. Mainwaring's [writing]. . . . It's hard to imagine a better writer equipped to take on Edith Wharton." —The Wall Street Journal
Penguin Books, 9780140232028, 416pp.
Publication Date: October 1, 1994
About the Author
The upper stratum of New York society into which Edith Wharton was born in 1862 provided her with an abundance of material as a novelist but did not encourage her growth as an artist. Educated by tutors and governesses, she was raised for only one career: marriage. But her marriage, in 1885, to Edward Wharton was an emotional disappointment, if not a disaster. She suffered the first of a series of nervous breakdowns in 1894. In spite of the strain of her marriage, or perhaps because of it, she began to write fiction and published her first story in 1889. Her first published book was a guide to interior decorating, but this was followed by several novels and story collections. They were written while the Whartons lived in Newport and New York, traveled in Europe, and built their grand home, the Mount, in Lenox, Massachusetts. In Europe, she met Henry James, who became her good friend, traveling companion, and the sternest but most careful critic of her fiction. The House of Mirth (1905) was both a resounding critical success and a bestseller, as was Ethan Frome (1911). In 1913 the Whartons were divorced, and Edith took up permanent residence in France.  Her subject, however, remained America, especially the moneyed New York of her youth. Her great satiric novel, The Custom of the Country was published in 1913 and The Age of Innocence won her the Pulitzer Prize in 1921. In her later years, she enjoyed the admiration of a new generation of writers, including Sinclair Lewis and F. Scott Fitzgerald. In all, she wrote some 30 books, including an autobiography, A Backward Glance (1934). She died at her villa near Paris in 1937.

Marion Mainwaring (1922-2015) was an Edith Wharton scholar most notable for having completed Wharton's unfinished manuscript The Buccaneers in 1993. In addition to her research focused on Wharton, Mainwaring also published several original works including the novels Murder in Pastiche: Or Nine Detectives All at Sea and Murder at Midyears, as well as a biography on Wharton's lover, Mysteries of Paris: The Quest for Morton Fullerton.