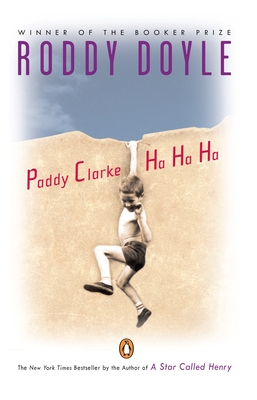 Paddy Clarke Ha Ha Ha
Paperback

* Individual store prices may vary.
Description
Winner of the Booker Prize – Roddy Doyle's witty, exuberant novel about a young boy trying to make sense of his changing world

It is 1968. Patrick Clarke is ten. He loves Geronimo, the Three Stooges, and the smell of his hot water bottle. He can't stand his little brother Sinbad. His best friend is Kevin, and their names are all over Barrytown, written with sticks in wet cement. They play football, lepers, and jumping to the bottom of the sea. But why didn't anyone help him when Charles Leavy had been going to kill him? Why do his ma and da argue so much, but act like everything is fine? Paddy sees everything, but he understands less and less. Hilarious and poignant, Paddy Clarke Ha Ha Ha charts the triumphs, indignities, and bewilderment of a young boy and his world, a place full of warmth, cruelty, confusion and love.
Penguin Books, 9780140233902, 288pp.
Publication Date: January 1, 1995
About the Author
Roddy Doyle is an internationally bestselling writer. His first three novels—The Commitments, The Snapper, and the 1991 Booker Prize finalist The Van—are known as The Barrytown Trilogy. He is also the author of the novels Paddy Clarke Ha Ha Ha (1993 Booker Prize winner), The Woman Who Walked into Doors, and A Star Called Henry, and a non-fiction book about his parents, Rory & Ita. Doyle has also written for the stage and the screen: the plays Brownbread, War, Guess Who's Coming for the Dinner, and The Woman Who Walked Into Doors; the film adaptations of The Commitments )as co-writer), The Snapper, and The Van; When Brendan Met Trudy (an original screenplay); the four-part television series Family for the BBC; and the television play Hell for Leather. Roddy Doyle has also written the children's books The Giggler Treatment, Rover Saves Christmas, and The Meanwhile Adventures and contributed to a variety of publications including The New Yorker magazine and several anthologies. He lives in Dublin.