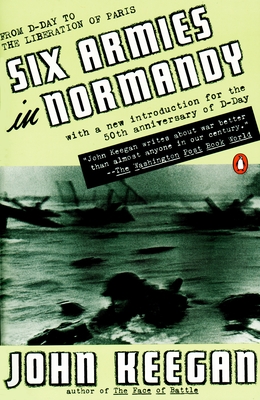 Six Armies in Normandy: From D-Day to the Liberation of Paris; June 6 - Aug. 5, 1944; Revised (Paperback)
From D-Day to the Liberation of Paris; June 6 - Aug. 5, 1944; Revised
Penguin Books, 9780140235425, 416pp.
Publication Date: June 1, 1994
Description
Acclaimed military historian John Keegan's investigation into World War II and the Normandy Invasion
The armies of six nations met on the battlefields of Normandy in what was to be the greatest Allied achievement of World War II. With dramatic, driving power, John Keegan describes the massed armies--American, Canadian, English, French, German, and Polish--at successive stages of the invasion. As he details the strategies of the military engagements, Keegan brilliantly shows how each of the armies reflected its own nation's values and traditions. In a new introduction written especially to commemorate the 50th anniversary of D-Day, he contemplates the ways the events at the battle of Normandy still reverberate today.
"The best military historian of our generation." -Tom Clancy
"John Keegan writes about war better than almost anyone in our century." -The Washington Post Book World "Very dramatic... Very well done... a book which conjures romance from some very hard fighting." -A. J. P. Taylor, The New York Review of Books "The story of this vast, complex, and risky amphibious assault, and the campaign which followed, has been told many times, but never better than by John Keegan." -The Wall Street Journal
About the Author
Sir John Desmond Patrick Keegan (1934-2012), was one of the most distinguished contemporary military historians and was for many years the senior lecturer at Sandhurst (the British Royal Military Academy) and the defense editor of the Daily Telegraph (London). Keegan was the author of numerous books including The Face of Battle, The Mask of Command, The Price of Admiralty, Six Armies in Normandy, and The Second World War, and was a fellow at the Royal Society of Literature.
Praise For Six Armies in Normandy: From D-Day to the Liberation of Paris; June 6 - Aug. 5, 1944; Revised…
"The story of this vast, complex, and risky amphibious assault, and the campaign which followed, has been told many times, but never better than by John Keegan." —The Wall Street Journal



 


Advertisement