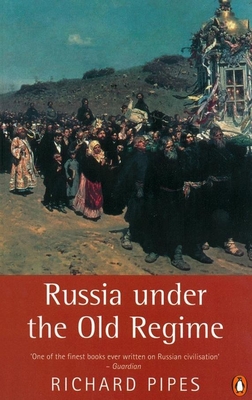 Russia under the Old Regime
Second Edition
Paperback

* Individual store prices may vary.
Description
"For anyone who wants an insight into the nature of Russian society before the revolution, there is no doubt that Professor Pipes has written the book."—Lionel Kochan, Jewish Chronicle

This highly acclaimed study from Richard Pipes analyzes the evolution of the Russian state from the ninth century to the 1880s and its unique role in managing Russian society. The harsh geographical conditions and sheer size of the country prevented the creation of participatory government, and a "patrimonial" state emerged in which Russia was transformed into a gigantic royal domain. Richard Pipes traces these developments and goes on to analyze the political behavior of the principal social groupings—peasantry, nobility, middle-class, and clergy—and their failure to stand up to the increasing absolutism of the tsar. In order to strengthen his powers, legal and institutional bases were set up that led to the creation of a bureaucratic police state under the Communists.

"A brilliant and provocative analysis . . . learned, judicious, witty and full of common sense."—John Keep, The Times Literary Supplement

"A lively, profound, often extremely subtle account of the making of the Russian state . . . For the serious student it is required reading which is also a delight. For the general reader with a minimal knowledge of Russian history and puzzled as to what makes the Russians tick, it lights up the whole field."—Edward Crankshaw, The Observer

"An excellent introduction, painstaking and enjoyable."—The New York Review of Books

"Pipes has produced a masterly interpretative history of tsarist Russa."—Choice
Penguin Books, 9780140247688, 384pp.
Publication Date: January 1, 1997
About the Author
Richard Pipes was for many years a professor of history at Harvard University. He is the author of numerous books and essays on Russia, past and present, including Russia Under the Bolshevik Regime. In 1981–82 he served as President Reagan's National Security Council adviser on Soviet and East European affairs, and he has twice received a Guggenheim fellowship. He lives in Cambridge, Massachusetts, and Marlborough, New Hampshire.
or
Not Currently Available for Direct Purchase