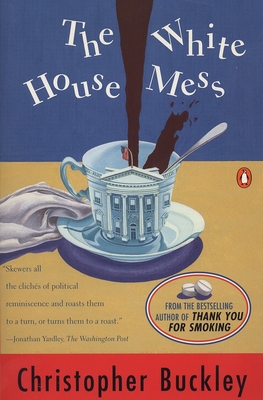 The White House Mess (Paperback)
Penguin Books, 9780140249286, 256pp.
Publication Date: May 1, 1995
* Individual store prices may vary.
Description
At last, a White House reminiscence that pulls no punches! Herbert Wadlough, personal assistant to President N. Tucker (TNT), offers his unique and utterly self-serving inside view of the historic years 1989-1993 of the ill-fated Tucker administration, in which he played such a crucial role. From the inauguration crisis—when President Reagan refused to vacate the White House—to the epochal War on Bermuda, to the delicate negotiations (sexual, for the most part) between the President and his First Lady, Wadlough gives an account that is open, honest, and hilarious.  
 
"This is the best piece of American political satire in years."—The Cleveland Plain Dealer
 
"This is a brilliant satire.... A witty, very funny, intricate spoof. Buckley gives new meaning to the phrase "He'll never work again in politics.'"—Bob Woodward
About the Author
Christopher Buckley is an American novelist and political satirist known for writing Supreme Courtship, Boomsday, and Thank You for Smoking. He is editor at large of ForbesLife magazine, and was awarded the Thurber Prize for American Humor and the Washington Irving Medal for Literary Excellence. Buckley lives on the Acela train between Washington, DC, and New York City.