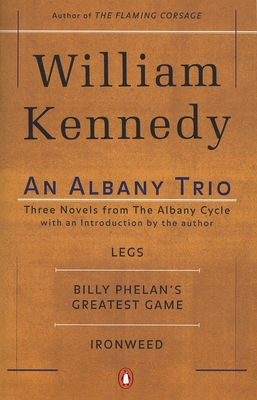 An Albany Trio (Paperback)
Penguin Books, 9780140257861, 624pp.
Publication Date: July 1, 1996
* Individual store prices may vary.
Description
"With Legs, Billy Phelan's Greatest Game, and . . . Ironweed, William Kennedy is making American literature."—The Washington Post Book World
 
Legs inaugurated William Kennedy's celebrated cycle of novels set in Albany, New York. True to both life and myth. Legs evokes the flamboyant career of the legendary gangster Jack "Legs" Diamond, who was finally murdered in Albany, and his showgirl mistress as they blaze a trail across the tabloid pages of the 1920s and 1930s.
 
The second novel in the Albany cycle depicts Billy Phelan, a slightly tarnished poker player, pool hustler, and small-time bookie, as he moves through the lurid nighttime glare of a tough Depression-era town. Full of Irish pluck, he works the fringes of Albany sporting life with his own particular style—until he falls from underworld grace.
 
In the Pulitzer Prize-winning novel, Ironweed, Francis Phelan, ex-ballplayer, part-time gravedigger, and full-time drunk, has hit bottom. Years ago he left Albany after killing a scab during a workers' strike, and again after he accidentally—and fatally—dropped his infant son. Now, in 1938, Francis is back, roaming familiar streets and trying to make peace with ghosts of the past and present.
About the Author
William Kennedy
, author, screenwriter and playwright, was born and raised in Albany, New York. Kennedy brought his native city to literary life in many of his works. The Albany cycle, includes
Legs
,
Billy Phelan's Greatest Game
, and the Pulitzer Prize winning
Ironweed
.The versatile Kennedy wrote the screenplay for
Ironweed
, the play
Grand View
, and cowrote the screenplay for the
The Cotton Club
with Francis Ford Coppola. Kennedy also wrote the nonfiction
O Albany!
and
Riding the Yellow Trolley Car
. Some of the other works he is known for include
Roscoe
and
Very Old Bones
.
Kennedy is a professor in the English department at the State University of New York at Albany. He is the founding director of the New York State Writers Institute and, in 1993, was elected to the American Academy of Arts and Letters. He has received numerous literary awards, including the Literary Lions Award from the New York Public Library, a National Endowment for the Arts Fellowship, and a Governor's Arts Award. Kennedy was also named Commander of the Order of Arts and Letters in France and a member of the board of directors of the New York State Council for the Humanities.
or
Not Currently Available for Direct Purchase