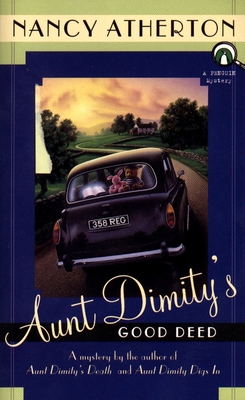 Aunt Dimity's Good Deed (Aunt Dimity Mystery) (Mass Market)
Penguin Books, 9780140258813, 288pp.
Publication Date: March 1, 1998
* Individual store prices may vary.
Description
The third in the bestselling and beloved Aunt Dimity series. Watch out for Nancy Atherton's latest, Aunt Dimity and the King's Ransom, coming in July 2018 from Viking!

Nancy Atherton's growing number of fans will certainly be delighted by Aunt Dimity's latest appearance in the honey-colored English cottage she bequeathed to her "niece," Lori Shepherd. Thanks to Aunt Dimity, Lori's life has taken on fairy-tale proportions: she's financially set for life and happily married or so she thinks. When Lori's plans for a second honeymoon to England with her workaholic husband fall through, she begrudgingly takes along her father-in-law who promptly disappears, leaving behind a mysterious note.  Inspired and guided by the ghost of Aunt Dimity and her inimitable blue journal, Lori's search for the elderly gentleman turns into a harrowing mission to uncover a centuries-old family secret complicated by mistaken identities, falsified deeds, family feuds, and Lori's unseemly attraction to her husband's beguiling English cousin. In a delightful chase that takes her all over the English countryside, Lori discovers the true meaning of marital bliss, and Nancy Atherton's fans, new and old, will savor a masterpiece of old-fashioned fun.
About the Author
Nancy Atherton is the bestselling author of twenty-two Aunt Dimity Mysteries. The first book in the series, Aunt Dimity's Death, was voted "One of the Century's 100 Favorite Mysteries" by the Independent Mystery Booksellers Association. She lives in Colorado Springs, Colorado.
Praise For Aunt Dimity's Good Deed (Aunt Dimity Mystery)…
Praise for Nancy Atherton and the Aunt Dimity series

"Atherton smoothly blends history, village life, and the otherworldly."—Publishers Weekly

"Every scene is superbly crafted to perfection. Even if you have not read all the books in this series, I have not, you can enjoy and immerse yourself in this cozy mystery." —Open Book Society

"I love the graceful style... the sense of tight-knit community, characters who aren't afraid to be themselves, and, the unique paranormal element...I only wish I had learned about this series earlier." —Gotta Write Network

"In the realm of the cozy mystery, there are few series that can hold a candle to Atherton's Aunt Dimity series." —everydayebook.com
 
"Atherton is a superb writer who brings a lot of charm and wit to her story." —Suspense Magazine

"Always a charming read, the Aunt Dimity series is just right for when life gets too hectic and you need to slow down a bit." —Deadly Pleasures Magazine

"Let Nancy Atherton and Aunt Dimity remind you of the reason you got hooked on books in the first place. I promise you will be scouring bookstores for more of the series after you give it a taste." —CrimeCritics.com