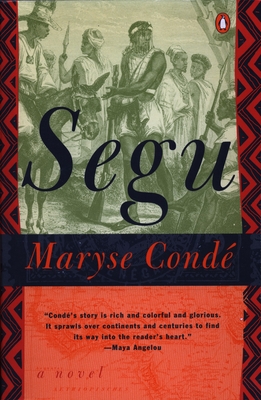 Segu
A Novel
Paperback

* Individual store prices may vary.
Other Editions of This Title:
Paperback (3/12/1988)
Description
"A wondrous novel" (New York Times) by the winner of the 2018 Alternative Nobel prize in literature (the New Academy Prize)
The year is 1797, and the kingdom of Segu is flourishing, fed by the wealth of its noblemen and the power of its warriors. The people of Segu, the Bambara, are guided by their griots and priests; their lives are ruled by the elements. But even their soothsayers can only hint at the changes to come, for the battle of the soul of Africa has begun. From the east comes a new religion, Islam, and from the West, the slave trade.
Segu follows the life of Dousika Traore, the king's most trusted advisor, and his four sons, whose fates embody the forces tearing at the fabric of the nation. There is Tiekoro, who renounces his people's religion and embraces Islam; Siga, who defends tradition, but becomes a merchant; Naba, who is kidnapped by slave traders; and Malobali, who becomes a mercenary and halfhearted Christian.
Based on actual events, Segu transports the reader to a fascinating time in history, capturing the earthy spirituality, religious fervor, and violent nature of a people and a growing nation trying to cope with jihads, national rivalries, racism, amid the vagaries of commerce.
Praise For Segu: A Novel…
"The most significant novel about black Africa published in many a year."
—
The New York Times book Review
"Condé is a born storyteller."
— Publishers Weekly
"Exotic, richly textured and detailed, this narrative, alternating between the lives of various characters, illuminates magnificently a little known historical period. Virtually every page glitters with nuggets of cultural fascination."
—Howard Kaplan, Los Angeles Times
"A wondrous novel about a period of African history few other writers have addressed. … Much of the novel's radiance comes from the lush description of a traditional life that is both exotic and violent."
—Charles L. Larson, The New York Times Book Review
"With the dazzling storytelling skills of an African griot, Maryse Condé has written a rich, fast-paced saga of a great kingdom during the tumultuous period of the slave trade and the coming of Islam. Segu is history as vivid and immediate as today. It has restored a part of my past that has long been missing."
—Paule Marshall, author of Daughters
"Segu is an overwhelming accomplishment. It injects into the density of history characters who are as alive as you and I. Passionate, lusty, greedy, they are in conflict with themselves as well as with God and Mammon. Maryse Condé has done us all a tremendous service by rendering a history so compelling and exciting. Segu is a literary masterpiece I could not put down."
—Louise Meriwether
"A stunning reaffirmation of Africa and its peoples as set down by others whose works have gone unnoticed. Ms. Condé not only backs them up, but provides new insights as well. … Segu has its own dynamic. It's a starburst."—John A. Williams
"A novel of wide scope, depth and power. Condé proves herself a careful observer of human behavior as she helps the reader to under stand and feel the turmoil of a confused continent. She captures a fascinating time in history with its earth spirituality, religious fervor and the violent nature of a people and their growing nation. . .Brims over with intelligence and wit."
—Anniston Star (Alabama)
"Segu, a tale of love and intrigue, is fascinating, for the reader experiences the fervor of those tumultuous times."
—Chattanooga News-Free Press
Penguin Books, 9780140259490, 512pp.
Publication Date: September 1, 1996
About the Author
A native of Guadeloupe, Maryse Condé lived for many years in Paris, where she taught West Indian literature at the Sorbonne. The author of several novels that have been well received in France (both Segu and its sequel were best-sellers), she has lectured widely in the United States and now divides her time between Guadeloupe and New York city, where she teaches at Columbia University.