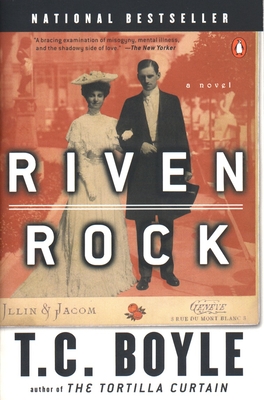 Riven Rock (Paperback)
Penguin Books, 9780140271669, 466pp.
Publication Date: January 1, 1999
Description
T. C. Boyle's
seventh novel transforms two characters straight out of history into rich mythic figures whose tortured love story is as heartbreaking as it is hilarious. It is the dawn of the twentieth century when the beautiful, budding feminist Katherine Dexter falls in love with Stanley McCormick, son of a millionaire inventor. The two wed, but before the marriage is consummated, Stanley experiences a nervous breakdown and is diagnosed as a schizophrenic sex maniac. Locked up for the rest of his life at Riven Rock, the family's California mansion, Stanley is treated by a series of confident doctors determined to cure him. But his true salvation lies with Katherine who, throughout her career as a scientist and suffragette, continues a patient vigil from beyond the walls of Riven Rock, never losing hope that one day Stanley will be healed.
Blending social history with some of the most deliciously dark humor ever written, Boyle employs his hallmark virtuoso prose to tell the story of America's age of innocence--and of a love affair that is as extraordinary as it is unforgettable.
About the Author
T. C. Boyle is the author of eleven novels, including World's End (winner of the PEN/FaulknerAward), Drop City (a New York Times bestseller and finalist for the National Book Award), and The Inner Circle. His most recent story collections are Tooth and Claw and The Human Fly and Other Stories.
Advertisement