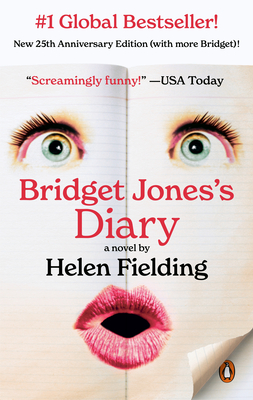 Bridget Jones's Diary
A Novel
Paperback

* Individual store prices may vary.
Other Editions of This Title:
Digital Audiobook (4/19/2012)
Digital Audiobook (4/9/2001)
Paperback (4/3/2001)
Description
USA Today's top 100 books to read while stuck at home social distancing 

The iconic #1 bestseller by Helen Fielding; Bridget Jones is now the inspiration for the September 2016 Working Title film release of Bridget Jones's Baby, starring Renee Zellweger, Colin Firth, Patrick Dempsey and Emma Thompson.  

Bridget Jones's Diary is the devastatingly self-aware, laugh-out-loud account of a year in the life of a thirty-something Singleton on a permanent doomed quest for self-improvement. Caught between the joys of Singleton fun, and the fear of dying alone and being found three weeks later half eaten by an Alsatian; tortured by Smug Married friends asking, "How's your love life?" with lascivious, yet patronizing leers, Bridget resolves to: reduce the circumference of each thigh by 1.5 inches, visit the gym three times a week not just to buy a sandwich, form a functional relationship with a responsible adult and learn to program the VCR. With a blend of flighty charm, existential gloom, and endearing self-deprecation, Bridget Jones's Diary has touched a raw nerve with millions of readers the world round. Read it and laugh—before you cry, "Bridget Jones is me!"
Praise For Bridget Jones's Diary: A Novel…
"Screamingly funny!"
—USA Today

"Bridget Jones is channeling something so universal and (horrifyingly) familiar that readers will giggle and sigh with collective delight."
—Elle

"Fielding . . . has rummaged all too knowingly through the bedrooms, closets, hearts, and minds of women everywhere."
—Glamour

"Hilarious and poignant."
—The Washington Post

"Bridget Jones's diary has made her the best friend of hundreds of thousands of women."
—The New York Times

"A brilliant comic creation. Even men will laugh."
—Salman Rushdie
Penguin Books, 9780140280098, 288pp.
Publication Date: June 1, 1999
About the Author
Helen Fielding, a journalist and a novelist, is the author of three Bridget Jones novels, including Bridget Jones's Diary, Bridget Jones: The Edge of Reason, and Bridget Jones: Mad About the Boy. Her other novels include Cause Celeb and Olivia Joules and the Overactive Imagination. She also co-wrote the screenplays for the blockbuster movie adaptations of the first two Bridget Jones books as well as for the forthcoming Working Titles film Bridget Jones's Baby (in theaters September 2016); which she is also an executive producer. Follow her on Twitter @bridgetjoneshf.