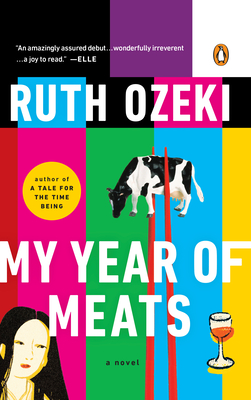 My Year of Meats (Paperback)
A Novel
Penguin Books, 9780140280463, 400pp.
Publication Date: March 1, 1999
Other Editions of This Title:
Digital Audiobook (6/24/2005)
Compact Disc (7/1/2003)
Compact Disc (7/1/2003)
MP3 CD (7/1/2003)
Audio Cassette (6/1/2003)
* Individual store prices may vary.
Description
A cross-cultural tale of two women brought together by the intersections of television and industrial agriculture, fertility and motherhood, life and love—the breakout hit by the celebrated author of A Tale for the Time Being

Ruth Ozeki's mesmerizing debut novel has captivated readers and reviewers worldwide. When documentarian Jane Takagi-Little finally lands a job producing a Japanese television show that just happens to be sponsored by an American meat-exporting business, she uncovers some unsavory truths about love, fertility, and a dangerous hormone called DES. Soon she will also cross paths with Akiko Ueno, a beleaguered Japanese housewife struggling to escape her overbearing husband. Hailed by USA Today as "rare and provocative" and awarded the Kirayama Prize for Literature of the Pacific Rim, My Year of Meats is a modern-day take on Upton Sinclair's The Jungle for fans of Michael Pollan, Margaret Atwood, and Barbara Kingsolver.
About the Author
Ruth Ozeki is a novelist, filmmaker, and Zen Buddhist priest. She is the award-winning author of three novels, My Year of Meats, All Over Creation, and A Tale for the Time Being, which was shortlisted for the Booker Prize and the National Book Critics Circle Award. Her critically acclaimed independent films, including Halving the Bones, have been screened at Sundance and aired on PBS. She is affiliated with the Brooklyn Zen Center and the Everyday Zen Foundation. She lives in British Columbia and New York City.

Visit www.ruthozeki.com and follow @ozekiland on Twitter.
Praise For My Year of Meats: A Novel…
"Ozeki is one of my favorite novelists . . . bewitching, intelligent, hilarious, and heartbreaking, often on the same page."
—Junot Díaz, Pulitzer Prize winner and author of This Is How You Lose Her

"In precise and luminous prose, Ozeki captures both the sweep and detail of our shared humanity. The result is gripping, fearless, inspiring and true."
—Madeline Miller, author of the Orange Prize winner The Song of Achilles

"Wonderfully wild and bracing . . . A feast that leaves you hungry for whatever Ozeki cooks up next."
—Newsweek

"My Year of Meats pulsates with passion. . . . Ozeki's first novel detonates an attack on the meat industry that would make Upton Sinclair sit up and smile . . . yet all this energy doesn't obscure the novel's quirky charm."
—USA Today

"Ruth Ozeki masks a deeper purpose with a light tone . . . A comical-satirical-farcical-epical-tragical-romantical novel."
—Jane Smiley, Chicago Tribune

"An amazingly assured debut, My Year of Meats is a wonderfully irreverent novel, with wacky cross-cultural collisions and hilarious characters . . . a joy to read."
—Elle

"Ozeki offers a remarkably fresh view of the rocky road many women travel to love and motherhood . . . one of the heartiest, and, yes, meatiest debuts in years."
—Glamour

"Romance, agri-business, self-discovery, cross-cultural misunderstanding—it takes a talent like Ruth Ozeki's to blend all these ingredients beautifully together. My Year of Meats is a sensitive and compelling portrait of two modern women."
—Arthur Golden, author of Memoirs of a Geisha

"Canny, cunning, muckraking, and lusty, weaving hormones and corporate threats, fertility and independence."
—The Village Voice

"A likeably odd and inventively imagined tale . . . Ozeki writes with the same over-the-top verve as fellow hyper-realist David Foster Wallace."
—Detroit Free Press