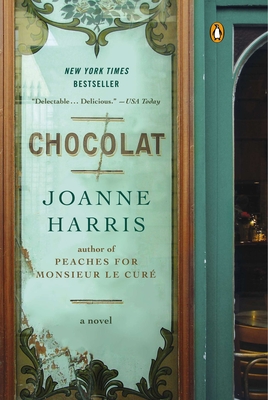 Chocolat
A Novel (A Vianne Rocher Novel #1)
Paperback

* Individual store prices may vary.
Other Editions of This Title:
Paperback (11/1/2000)
Description
Even before it was adapted into the Oscar-nominated film starring Juliette Binoche and Johnny Depp, Joanne Harris' New York Times bestselling novel Chocolat entranced readers with its mix of hedonism, whimsy, and, of course, chocolate.

In tiny Lansquenet, where nothing much has changed in a hundred years, beautiful newcomer Vianne Rocher and her exquisite chocolate shop arrive and instantly begin to play havoc with Lenten vows. Each box of luscious bonbons comes with a free gift: Vianne's uncanny perception of its buyer's private discontents and a clever, caring cure for them. Is she a witch? Soon the parish no longer cares, as it abandons itself to temptation, happiness, and a dramatic face-off between Easter solemnity and the pagan gaiety of a chocolate festival. Chocolat's every page offers a description of chocolate to melt in the mouths of chocoholics, francophiles, armchair gourmets, cookbook readers, and lovers of passion everywhere. It's a must for anyone who craves an escapist read, and is a bewitching gift for any holiday.
Praise For Chocolat: A Novel (A Vianne Rocher Novel #1)…
"Accomplished and delectable… Few readers will be able to resist."—New York Times Book Review

"Gourmand Harris's tale of sin and guilt embodies a fond familiarity with things French that will doubtless prove irresistible to many readers."—Publishers Weekly (starred review)

"…as sweet, rich and utterly satisfying as a fine truffle. Dieters beware: Ms. Harris's lush prose drips with mouth-watering descriptions of cocoa confections that could melt even the most resolute of wills."—Wall Street Journal

"Vianne is a magnet for the town's misfits… Vianne gives them chocolate, but also nudges their lives in the right direction… Clearly, chocolate stands for human kindness and consolation. … Jaunty, hopeful and endearing."—The Guardian (UK)

"You find yourself unable to stop until you've finished feasting on this delightful, quirky, sensuous story. This is also a feelgood book of the first order… so full of colour, tastes and scents, that as you are lured by the plot and the wonderful descriptions, your senses are left reeling. This novel is a celebration of pleasure, of love, of tolerance. Read it."—The Observer

Penguin Books, 9780140282030, 336pp.
Publication Date: January 1, 2000
About the Author
Joanne Harris is the author of the Whitbread Award-nominated Chocolat (made into an Oscar-nominated film starring Juliette Binoche and Johnny Depp) and eleven other bestselling novels. She plays bass guitar in a band first formed when she was sixteen, is currently studying Old Norse and lives with her husband and daughter in Yorkshire, England.