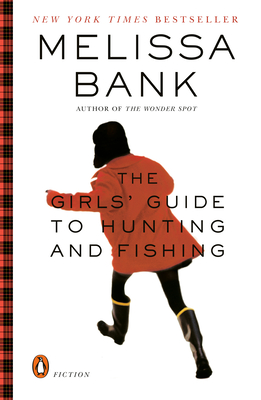 The Girls' Guide to Hunting and Fishing
Paperback

* Individual store prices may vary.
Other Editions of This Title:
Paperback (7/26/2011)
Description
The New York Times bestselling classic of a young woman's journey in work, love, and life
 
"In this swinging, funny, and tender study of contemporary relationships, Bank refutes once and for all the popular notions of neurotic thirtysomething women." —Entertainment Weekly
 
"Truly poignant." —Time
 
Generous-hearted and wickedly insightful, The Girls' Guide to Hunting and Fishing maps the progress of Jane Rosenal as she sets out on a personal and spirited expedition through the perilous terrain of sex, love, relationships, and the treacherous waters of the workplace. Soon Jane is swept off her feet by an older man and into a Fitzgeraldesque whirl of cocktail parties, country houses, and rules that were made to be broken, but comes to realize that it's a world where the stakes are much too high for comfort. With an unforgettable comic touch, Bank skillfully teases out universal issues, puts a clever new spin on the mating dance, and captures in perfect pitch what it's like to come of age as a young woman.
Praise For The Girls' Guide to Hunting and Fishing…
"Charming and funny."
—The New York Times

"As hilarious as Girls' Guide is, there's a wise, serious core here."
—The Wall Street Journal

"Bank draws exquisite portraits of loneliness, and can do it in a sentence."
—Newsweek

"A sexy, pour-your-heart-out, champagne tingle of a read—thoughtful, wise, and tell-all honest. Bank's is a voice that you'll remember for years to come."
—Cosmopolitan

"Bank writes like John Cheever, but funnier."
—Los Angeles Times
 
"Believe the hype: Jane's touching (but unsentimental) career and love trials ring true."
—Glamour
 
"Melissa Bank accomplishes that hardest of simple things: She shows life as it is—and makes it readable."
—The Washington Post
 
"It is, for me, a near-perfect book, one that I have pressed into the hands of several female friends and recommended on lists both solicited and not. From its pages spill lightly scented wit and wisdom: How to be, how to see, how to cope. It is easily the most influential book of my third decade, and every time I reread it – or sections of it, at least – I am struck again by its neatness and completeness."
—Bim Adewunmi, BuzzFeed




"Writing literature that mixes comedy and tragedy in the proper amounts is not an easy task. Only a handful of contemporary writers (Joseph Heller, Ann Tyler, and John Irving come to mind) can do it with any success. Whether dealing with serious issues or mundane, Bank proves that she has what it takes to stand in such august company."
—The Denver Post
 
"Crafted by a gifted writer, a descendant from the school of restraint whose grandfather is Hemingway and whose father is the early Raymond Carver. The presiding mother figure is Lily Tomlin."
—The News and Observer
 
"Only a few authors have successfully blended the compressed nature of short prose with the novel's greater panorama of character. Melissa Bank brings similar energy and style to her new book."
—Chicago Tribune

"I read the first chapter and thought, 'Wait, I know this girl.' By the second, I realized she was my friend. She did all the things that good friends do: she made me laugh, she made me weep, and when I closed the book at the end of the day, I knew I'd never forget her."
—Ruth Ozeki, New York Times bestselling author of A Tale for the Time Being and My Year of Meats
 
"Courageous and wise, as heartbreaking and laugh-out-loud funny as only the most deeply true fiction can be. Melissa Bank writes with a fine eye, a clean voice, and a generous heart."
—Pam Houston, bestselling author of Sight Hound and Cowboys are My Weakness
 
"A compassionate comedy of manners, pitch-perfect . . . Bank's people are fully realized and, just like us, fond, foolish, blind, and wise by turns and in ways both tenderly familiar and refreshingly odd."
—Amy Bloom, New York Times bestselling author of Away and Lucky Us
Penguin Books, 9780140293241, 288pp.
Publication Date: May 1, 2000
About the Author
Melissa Bank (1960–2022) was the New York Times bestselling author of The Girls' Guide to Hunting and Fishing and The Wonder Spot, which have been translated into thirty languages. Her short stories and nonfiction were published in the Chicago Tribune, The Guardian, Ploughshares, Cosmopolitan, Glamour, O, The Oprah Magazine, and elsewhere, as well as broadcast by NPR and the BBC. She won the 1993 Nelson Algren Award for short fiction and held an MFA from Cornell University. A longtime resident of New York City and East Hampton, New York, she taught in the MFA program at Stony Brook Southampton and wrote until her passing in 2022.