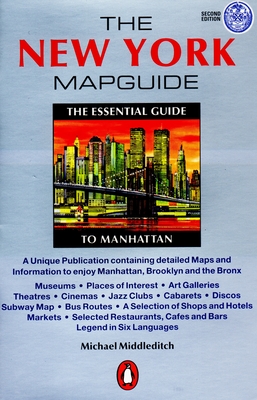 The New York Mapguide (Paperback)
Penguin Books, 9780140294590, 64pp.
Publication Date: January 1, 2001
Description
Popular and portable,
The New York Mapguide
--now in its second edition--contains everything visitors need to know to enjoy themselves in, get the best out of, and find their way around New York City. Its colorful, informative maps are easy to read and convenient to handle--no unfolding necessary. As terrific as the easily readable maps are, however, there is much more here. Packed into these 64 pages is a surprising amount of information about the many different sights and activities to see and do in and around the Big Apple.
* A complete map of the Manhattan subway system
* A calendar of events, including major activities, dates and locations of parades and marches, park events, and music festivals
* Information on museums--including a full page devoted to the Metropolitan Museum of Art
* Fascinating facts about places of interest, from the Brooklyn Bridge to Times Square
* Sections devoted to shopping, services, and entertainment
* Newly-added information about the Bronx and Brooklyn
* Three walking tours--the Financial District, the Lower East Side, and Greenwich Village

About the Author
Michael Middleditch is the author of The Penguin London Mapguide, The Paris Mapguide, The New York Mapguide, The Penguin Map of Europe, The Penguin Map of North America, and The Penguin Map of the World.
Advertisement