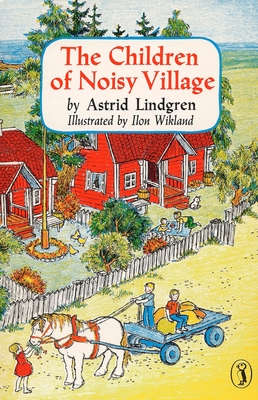 The Children of Noisy Village (Paperback)
Puffin Books, 9780140326093, 128pp.
Publication Date: February 2, 1988
Description
Let the beloved author of Pippi Longstocking take you on an adventure to Noisy Village
Go crayfishing in the summer at Nocken, "dipping in the pot" at Christmastime with Lisa and Karl, and join Britta and Anna who know the best way to go about "nutting" for the New Year. In this gently humorous tale, master storyteller Astrid Lindgren takes us through a year in the lives and customs of six Swedish children living on a group of three farms in the countryside. "A timeless story . . . Each chapter has its accounts of highly inventive fun and distinctly merry Swedish festivities around the year."--Horn Book
About the Author
Astrid Lindgren, author of many popular books for children, won the Hans Christian Andersen Award, among others, for her contribution to children's literature. Astrid wrote her first story, Pippi Longstocking (Pippi Langstrump) as a birthday present for her daughter, and in 1945 Pippi Longstocking won first prize at Raben & Sjogren's Best Children's Book Competition, age 6-10. She then worked as children's book editor at Raben & Sjogren. Astrid Lindgren is the most often read Swedish author.
Advertisement