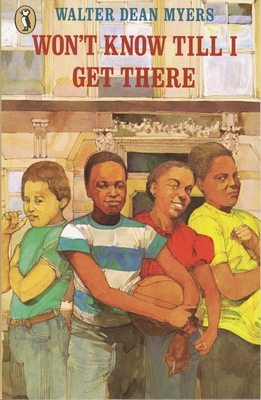 Won't Know Till I Get There (Paperback)
Puffin Books, 9780140326123, 176pp.
Publication Date: April 1, 1988
Description
From the New York Times bestselling, National Book Award-nominated author of Monster and Fallen Angels When Steve's parents decide to adopt a foster child, it seems like a good idea. And when Steve decides to show the new kid how tough he is by spray-painting the side of a subway car, that seems like a good idea too. But the foster child turns out to be a thirteen-year-old with a criminal record, and the guys in the designer jeans watching Steve spray-paint graffiti turn out to be transit police. Suddenly Steve and the whole gang are serving time, working in an old-age home with a bunch of feisty and independent senior citizens who refuse to sit still and be stereotyped--by anybody.
"Another winning novel told with nimble wit and poignancy." --Publishers Weekly "Myers explores the value and meaning of true friendship. . . The tone is alternately funny, sad, and sentimental, but always natural and appealing." --School Library Journal

An ALA Notable Book.
About the Author
Walter Dean Myers is a New York Times bestselling and critically acclaimed author who has garnered much respect and admiration for his fiction, nonfiction, and poetry for young people. Winner of the first Michael L. Printz Award, he is considered one of the preeminent writers for children.
Advertisement