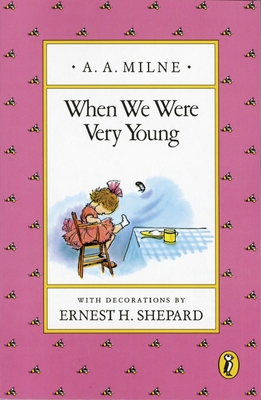 When We Were Very Young (Winnie-the-Pooh) (Paperback)
Puffin Books, 9780140361230, 112pp.
Publication Date: August 1, 1992
Other Editions of This Title:
Hardcover (9/1/2020)
Paperback (5/28/2020)
Hardcover (1/15/2020)
Hardcover (10/31/1988)
Hardcover (9/3/2009)
Audio cassette (9/14/2004)
Audio Cassette (4/1/2005)
Compact Disc (5/1/2005)
Paperback (8/18/2021)
Hardcover (2/25/2016)
Paperback (8/1/1970)
Paperback (6/2/2016)
Hardcover (10/1/2011)
Compact Disc (4/5/2005)
Prebound (8/1/1992)
Hardcover (9/1/1992)
Audio Cassette (5/1/2005)
* Individual store prices may vary.
Description
Celebrate the 90th birthday of one of the world's most beloved icons of children's literature, Winnie-the-Pooh!

A classic celebration of childhood, A. A. Milne's When We Were Very Young is a collection of poems that have touched the hearts of readers for more than 90 years. His verses sing with a playful innocence, weaving together the worlds of reality and enchanting make-believe. Published two years before Winnie-the-Pooh, careful readers will also discover the very first appearance of the Best Bear in All the World. These treasured poems are perfectly matched by Ernest Shepard's whimsical illustrations, which have delighted countless readers.

These poems have been read and re-read to generations of children, and today, they can still find a cherished place on every bookshelf.
About the Author
A. A. Milne was born in 1882 in London. He was a playwright and journalist as well as a poet and storyteller. His classic children's books were inspired by his son, Christopher Robin. Milne died in 1956.

Ernest H. Shepard was born in 1879 in England. His pictures of the Pooh characters are based on real toys owned by Christopher Robin Milne. Shepard died in 1976.