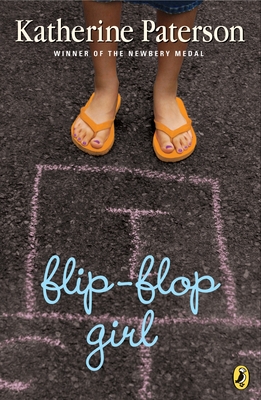 The Flip-Flop Girl (Paperback)
Puffin Books, 9780140376791, 128pp.
Publication Date: February 1, 1996
Description
Written by Newbery Medalist, National Book Award winner, and Laura Ingalls Wilder Award recipient, and author of Bridge to Terabithia.
Vinnie Matthews needs a real lifesaver--on that will bring her father back to life and let her family go home. Living with Grandma means having to be responsible for her little brother, Mason, who refuses to speak, and ignoring the kids who ask why he's so crazy. Then Vinnie meets Lupe, the mysterious "flip-flop girl" who only wears orange flip-flops on her feet. Lupe is strong, confisent, and even more of an outsact than Vinnie. She's just teh type of friends Vinnie needs, if only Vinnie can ignore the rumora about Lupe's past.
About the Author
Katherine Paterson is the author of more than 30 books, including 16 novels for children and young people. She has twice won the Newbery Medal, forBridge to Terabithiain 1978 andJacob Have I Lovedin 1981.The Master Puppeteerwon the National Book Award in 1977 andThe Great Gilly Hopkinswon the National Book Award in 1979 and was also a Newbery Honor Book. For the body of her work she received the Hans Christian Anderson Award in 1998, the Astrid Lindgren Memorial Award in 2006, and in 2000 was named a Living Legend by the Library of Congress.She is a vice-president of theNational Children s Book and Literacy Allianceand is a member of the board of trustees forVermont College of Fine Arts. She is also a honorary lifetime member of theInternational Board of Books for Young Peopleand an Alida Cutts lifetime member of the US section, USBBY. She is the 2010-2011National Ambassador for Young People s Literature."
Praise For The Flip-Flop Girl…
* "Resembles some of Paterson's most affecting books, such as Bridge to Terabithia and The Great Gilly Hopkins. . . . All readers will know more about themselves when they get to the conclusion of this powerful story."
-.
Advertisement