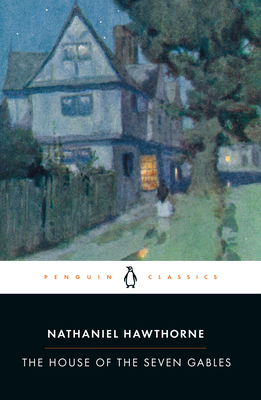 The House of the Seven Gables
Paperback

* Individual store prices may vary.
Other Editions of This Title:
Digital Audiobook (2/23/2008)
Paperback (12/16/2017)
Paperback (2/23/2017)
Paperback (7/4/2016)
Paperback (1/5/2021)
Paperback (1/23/2013)
Paperback (9/18/2014)
Paperback (7/29/2012)
Paperback (8/27/2018)
Paperback (10/11/2020)
Paperback (1/1/2021)
Paperback (8/14/2020)
Paperback (5/11/2020)
Paperback (5/28/2015)
Paperback (4/7/2021)
Paperback (4/6/2010)
Paperback (11/27/2020)
Paperback (8/20/2017)
Paperback (12/1/2004)
Description
FThis enduring novel of crime and retribution vividly reflects the social and moral values of New England in the 1840s. 

Nathaniel Hawthorne's gripping psychological drama concerns the Pyncheon family, a dynasty founded on pious theft, who live for generations under a dead man's curse until their house is finally exorcised by love. Hawthorne, by birth and education, was instilled with the Puritan belief in America's limitless promise. Yet - in part because of blemishes on his own family history - he also saw the darker side of the young nation. Like his twentieth-century heirs William Faulkner and F. Scott Fitzgerald, Hawthorne peered behind propriety's façade and exposed the true human condition.
Praise For The House of the Seven Gables…
"A large and generous production, pervaded with that vague hum, that indefinable echo, of the whole multitudinous life of man, which is the real sign of a great work of fiction."
—Henry James
Penguin Classics, 9780140390056, 368pp.
Publication Date: August 27, 1981
About the Author
Nathaniel Hawthorne was born on July 4, 1804, in Salem, Massachusetts, the son and grandson of proud New England seafarers. He lived in genteel poverty with his widowed mother and two young sisters in a house filled with Puritan ideals and family pride in a prosperous past. His boyhood was, in most respects, pleasant and normal. In 1825 he was graduated from Bowdoin College, Brunswick, Maine, and he returned to Salem determined to become a writer of short stories. For the next twelve years he was plagued with unhappiness and self-doubts as he struggled to master his craft. He finally secured some small measure of success with the publication of his Twice-Told Tales (1837). His marriage to Sophia Peabody in 1842 was a happy one. The Scarlet Letter (1850), which brought him immediate recognition, was followed by The House of the Seven Gables (1851). After serving four years as the American Consul in Liverpool, England, he traveled in Italy; he returned home to Massachusetts in 1860. Depressed, weary of writing, and failing in health, he died on May 19, 1864, at Plymouth, New Hampshire.