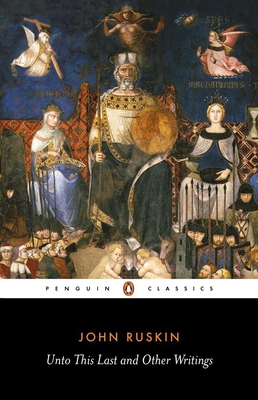 Unto This Last and Other Writings
Paperback

* Individual store prices may vary.
Other Editions of This Title:
Paperback (4/26/2014)
Paperback (11/22/2018)
Paperback (6/15/2015)
Paperback (4/26/2018)
Hardcover (11/4/2018)
Hardcover (11/22/2018)
Paperback (10/13/2018)
Hardcover (10/13/2018)
Paperback (11/4/2018)
Hardcover (8/8/2015)
Paperback (3/25/2015)
Paperback (7/29/2018)
Paperback (2/12/2015)
Description
The most influential art theorist and critic of his age, an outstanding man of letters, a sensitive painter and draughtsman, Ruskin's social criticism shocked and angered the establishment and many of his admirers.
First and foremost an outcry against injustice and inhumanity, Unto this Last is also a closely argued assault on the science of political economy, which dominated the Victorian period. Ruskin was a profoundly conservative man who looked back to the Middle Ages as a Utopia, yet his ideas had a considerable influence on the British socialist movement. And in making his powerful moral and aesthetic case against the dangers of unhindered industrialization he was strangely prophetic. This volume shows the astounding range and depth of Ruskin's work, and in an illuminating introduction the editor reveals the consistency of Ruskin's philosophy and his adamant belief that questions of economics, art and science could not be separated from questions of morality. In Ruskin's words, 'There is no Wealth but Life.'

For more than seventy years, Penguin has been the leading publisher of classic literature in the English-speaking world. With more than 1,700 titles, Penguin Classics represents a global bookshelf of the best works throughout history and across genres and disciplines. Readers trust the series to provide authoritative texts enhanced by introductions and notes by distinguished scholars and contemporary authors, as well as up-to-date translations by award-winning translators.

Penguin Classics, 9780140432114, 368pp.
Publication Date: February 4, 1986
About the Author
John Ruskin was born in London in 1819, of Scottish descent. His father was a succesful wine-merchant and art lover; his mother a strict Evangelical whose religious instruction affected him deeply. He entered Christ Church, Oxford, in 1836 and graduated in 1842. In 1843, the first of the five volumes of Modern Painters was published, a work written in defense of J.M.W. Turner. The other volumes survey the main traditions of European painting from Giotto to the nineteenth century. Ruskin was also passionately interested in Gothic architecture and published two books on the subject before the completion of Modern Painters: The Seven Lamps of Architecture (1849) and the three volumes of The Stones of Venice in 1851 and 1853. He married Effie Gray in 1848, but seven years later the marriage was annulled on grounds of non-consummation. In 1858 he met Rose la Toche, a girl of nine, with whom he fell in love and became increasingly obsessed, and in that year he finally lost his Evangelical faith. In 1860, disillusioned with a society in which poverty was rampant and the poor exploited, he began the first of four essays attacking the science of Political Economy. They were published in book form in 1862, uner the title, Unto this Last. This was followed in 1863 by Munera Pulveris, which puts forward some positive proposals for economic change and reform. In 1869 he became the first Slade Professor of Fine Art at Oxford and in 1871 began writing Fors Clavigera, a series of open letters which draw connections between diverse subjects. He also took part in many practical projects, many of which he directed by way of his Utopian pressure-group, the Guild of St. George. When Rose la Touche died insanse in 1875, however, he began to show signs of mental disturbance and suffered the first of seven mental breakdowns in 1878. In 1885 he began publishing his autobiography, Praeterita. This moving and lyrical book was brought to a premature conclusion by his last and most violent breakdown in 1889. He lived on, withdrawn and inactive, until 1900.
or
Not Currently Available for Direct Purchase